VPN
VPN Comparison in 2022: Prices and best VPNs for Privacy, Security and Speed
Do you want to know which are the best VPNs for quality price in 2022? Free or paid VPN? Where can you buy a VPN? It is important to make a good comparison of the best VPN providers (not all are the same, nor do they offer the same thing); know the prices of the TOP VPNs (know how much a quality VPN costs); know what its strengths and weaknesses are (speed, number of servers, use on multiple devices, privacy).
There are many options and the truth is that it is difficult to choose the best virtual private network. Not only do we have to look at the price, but you also have to make sure that the quality of its servers is good, that they do not keep records of you, and that it allows you to watch Netflix and HBO in other countries or download torrents, that it has good apps and that your privacy policy is exceptional.
It does not seem like an easy task… That is why we have to clarify the panorama a bit and select the best-paid VPN options and see if the free VPNs are worth it (and if they are safe).
As in past years, in 2022 I am also going to select the best VPN, but since it is clear that everyone's needs are different, I have chosen the best VPN for each situation, also a couple of cheap VPN providers and even a free one from full confidence. Don't miss them.
A small summary of this comparison? This time, in addition to NordVPN, which still has a simple and clear interface and many options, I have also considered  PIA, one of the classic VPN providers; ExpressVPN, one of the best options for performance; Windscribe, a cheap VPN and possibly the best free option at the moment or CyberGhost, an option for all kinds of uses. I have also included Mullvad or IVPN, VPNs with a good payment plan, excellent privacy, and very transparency; Surfshark, a great VPN with a great program for Windows and excellent speed of servers and ProtonVPNwith its paid version and its free plan… the best you'll find. For advanced users: you can sign up for AirVPN. They all offer a money-back guarantee for a certain period of time, in case you don't like the service.
Personally, I am using 3 of these VPNs consistently: NordVPN (for a number of servers, locations, and speed), Mullvad (for privacy, good company policy, and pricing), and Windscribe (I have a life plan and have never been given problems). If you are an advanced user, I also recommend looking at the AirVPN option. And I've tried the rest for a couple of months. If you need a dedicated IP you can try VPNArea (it offers a very cheap option).
How have I compared these VPNs? I have been trying all the VPNs that you see at the entrance, signing up for one of their plans. I have downloaded their apps and analyzed their control panels and subscription options. I check the speed of their servers with Speedtest, VPN leaks (DNS, WebRTC) with DNS Leak or ipleak.net, app and web trackers with EXODUS and themarkup.org, support, use with P2P, torrents, and streaming services. And of course, I review their privacy policy and security protocols. You can ask me any questions if you have any doubts about any of them. I update the reviews several times a year rechecking their features.
EYE! Not all VPN networks are the same. You have to choose your VPN provider very well. We don't want them to sell our browsing logs or keep our logs… right? Probably the most important thing when choosing a good VPN is that it has a really good privacy policy, and that it does not keep " logs " of our online activity. I already anticipate that a free VPN is not advisable.
What will you find in this article?
Quick comparison of the best VPNs
VPN prices: the price of each VPN provider I recommend in this post
What do you need to know to sign up for the best-paid VPN?
What should you look for in a good VPN?
The best VPN: prices and comparison
How a VPN works: What is a VPN?
Are VPNs legal?
Do you know how to use your VPN correctly or what or where you need to use it for?
Tor vs VPN vs Proxy: Which service should you use to improve your privacy?
What can you use a VPN for?
How have I reviewed these VPNs? I have tried all the VPNs in the review for some time, some even for many years. I've run several speed tests over time (do they slow down?) and used various server locations around the world to test their performance.
I have also installed several of their apps on different operating systems (Mac and mobile devices). I have checked their security features (encryption level, encryption protocols) and checked their privacy policy. And finally, I have checked if these VPNs work with different streaming services, torrents…
1.-Quick comparison of the best VPNs
Are they the best VPNs in the world? It could be… If you know of a better one, don't hesitate to leave your choice in the comments.
| Best Paid VPN | VPN stands out for |
| --- | --- |
| NordVPN | The best VPN for a quality price. Based in Panama. They respect your privacy. |
| windscribe | Paid and free versions. The best free VPN. is Very stable and has good speed. Based in Canada. They respect your privacy. |
| Mullvad | The best VPN for privacy. Perfect VPN to keep your anonymity. Good server speed. |
| IVPN | Great privacy and server speed. Good choice along with Mullvad. |
| AirVPN | An excellent option for advanced users. Top security and privacy with many configuration options. |
| ProtonVPN | VPN with an excellent free option. The payment plan is expensive. |
| HIDE.me | Good server speed and good free plan. Based in Malaysia. |
| vpn.ac | Good obfuscation options for China and Multihop. Apps can improve. |
| VyprVPN | No logs and good server speed. |
| surf shark | Cheap, fast, and with good programs for Windows |
| PIA | A good option for the whole trip with good privacy, although with some possible but… They respect your privacy. Based in the USA. |
| ExpressVPN | Excellent server speed although somewhat expensive. Base on Isla Virgenes. |
| CyberGhost | Good service but with some but in the privacy policy… Based in Romania. |
And now let's see a table with a quick comparison of functionalities and features:
| Features | NordVPN | windscribe | Mullvad | AirVPN |
| --- | --- | --- | --- | --- |
| Use with torrents | Yes | Yes | Yes | Yes |
| streaming services | Netflix, HBO, Disney+, Hulu, etc… | Netflix, HBO, Disney+, Hulu, etc… | Yes, it works with Netflix | Netflix, HBO, Disney+ |
| Privacy policy | Does not keep records of you | Does not keep records of you | Does not keep records of you | Does not keep records of you |
| apps | Windows, macOS, Android, iOS, Linux, routers, FireTV, Apple TV | Windows, macOS, Android, iOS, Linux | Windows, macOS, Android, iOS, routers. firefox extension | Windows, macOS, Android, iOS, Linux, routers |
| servers | 5,488 NordVPN servers in 59 countries around the world | Servers in 63 countries around the world | Almost 800 servers in 38 countries around the world | 243 servers in 22 countries around the world |
| number of devices | up to 6 | unlimited | 5 devices | 5 devices |
| trial period | 30 days without obligation | 3 days without obligation | 30 days without obligation | 30 days without commitment (with the free trial period) |
The 3 VPNs I currently use
| Features | HIDE.me | ProtonVPN | IVPN | vpn.ac | surf shark |
| --- | --- | --- | --- | --- | --- |
| Use with torrents | Yes | Yes | Yes | Yes | Yes |
| Streaming services | Yes, it works with Netflix, HBO Max, Hulu, Disney+ | Netflix, HBO, Disney+, Hulu, etc… | Netflix, HBO, Disney+, Hulu, etc… | Nope | Netflix, HBO, Disney+, Hulu etc… |
| Privacy policy | Does not keep records of you | Does not keep records of you | Does not keep records of you | Does not keep records of you | Does not keep records of you |
| Apps | Windows, macOS, Android, iOS, Linux, Firefox and Chrome extension | Windows, macOS, Android, iOS, Linux | Windows, macOS, Android, iOS, Linux | Windows, macOS, Android, iOS, Linux, routers, Firefox Opera, and Chrome extension | Windows, macOS, Android, iOS, Linux, Fire TV, Apple TV |
| Servers | 2,000 servers in 75 locations (46 countries) | 1000+ servers in 54 countries around the world | About 100 servers in 31 countries around the world | 130 servers. Multiple countries: 21 (VPN), 32 (SecureProxy) | 1700+ servers in 63 countries around the world |
| Number of devices | 10 devices | Up to 10 | 2 devices (Standard) and 7 in the Pro plan | 12 simultaneous connections (6 OpenVPN, IPsec + 6 WireGuard) | unlimited |
| Trial period | 30 days without commitment and a free plan available | 30 days without obligation | 30 days without obligation | Trial account for 7 days (7 days money back) | 30 days without obligation |
| Features | OVPN | VyprVPN | Private Internet Access (PIA) | ExpressVPN | CyberGhost |
| --- | --- | --- | --- | --- | --- |
| Use with torrents | Yes | Yes | Yes | Yes | Yes |
| Streaming services | Netflix, HBO, Disney+, Hulu, etc… | Netflix, HBO, Disney+, Hulu, etc… | Netflix, HBO, Disney+, Hulu, etc… | Netflix, HBO, Disney+, Hulu, etc… | Netflix, HBO, Disney+, Hulu, etc… |
| Privacy policy | Does not keep records of you | Does not keep records of you | Does not keep records of you | Does not keep records of you | Does not keep records of you |
| Apps | Windows, macOS, Android, iOS, Linux or routers | Windows, macOS, Android, iOS, Linux, TV, Qnap, routers, chrome extension | Windows, macOS, Android, iOS, Linux or routers | Windows, macOS, Android, iOS, Linux or routers | Windows, macOS, Android, iOS, Linux or routers |
| Servers | 95 servers in 29 locations | More than 700 servers in 70 locations | 15,000+ servers in 74 countries around the world | 3000+ servers in 94 countries around the world | 6,600+ servers in 90 countries around the world |
| Number of devices | 4 devices | Connections for 30 devices | Up to 10 | 5 devices | 7 devices |
| Trial period | 10 days without obligation | 30 days money back. | 30 days without obligation | 30 days without obligation | 45 days without obligation |
TOP VPN Recommendations
If you are looking for VPN providers that do not have affiliates, Mullvad, IVPN, and ProtonVPN are your services of choice. AirVPN only has a referral system to get airtime on the VPN. The others I recommend are VPNs I'm affiliated with (I earn a small commission when you sign up), but that doesn't mean they're still good options. I am not recommending them to earn a percentage of the sale, I am recommending them because I think they are good VPN services and I am even a permanent subscriber to two of them, NordVPN (religiously paying for the subscription every year) and Windscribe (with a plan for the entire the life). Nor with options like VyprVPN. However, in case you don't trust me, check out more reviews and opinions on Reddit or on the internet to confirm my data and opinions… or sign up for ProtonVPN, IVPN, Mullvad or AirVPN… you can't go wrong with them.
If you are looking for privacy and security when you browse the internet, then what you need is to sign up for a VPN (Virtual Private Network) service. Much better than using a proxy in every program that connects to the internet.
A VPN creates a secure tunnel between a client device and a local area network (LAN) by encrypting data. Additionally, a VPN service manipulates the header data in the packet stream, substituting your IP address with one of its own and masking the origin of the information you are sending.
What influences the quality of a VPN service? Number, speed, and location of VPN servers, personal data retention policy, customer support, encryption, and protocol support, and payment methods.
2.-How much does a VPN cost? Prices of the VPNs that I recommend in this post
If I recommend that you choose a paid VPN, maybe it would be interesting to compare the prices of VPNs , right? There are some cheap VPNs and some not so cheap. I am going to try to explain to you why one and the other are worth it: you will know which are the best-paid VPNs.
Eye! I am only going to indicate the cheapest plan… I suppose that nobody is going to sign up for just one month and that we are looking for the best value for money in these services. What I do indicate is the monthly price of the offer in order to better compare one and the other services.
Eye! The prices are updated to December 2020. They tend to change quite a bit because there are many offers throughout the year, but to give you an idea of ​​the cost of a VPN, it is very good. Each provider has positioned itself in a certain price range and does not usually come out of there.
VPN price comparison table
TOPVPN
VPN price
Price Opinion
windscribe
$49/1 year
($4.08/month)
The average price for a VPN
NordVPN
€84.15/2 years (3.12/month)
The average price for a VPN
surf shark
€49.14/2 years
(1.82/month)
One of the cheapest VPNs
PIA
€70/3 years
(€1.94/month)
One of the cheapest VPNs
ExpressVPN
€84.89/1 year (€7.07/month)
The second most expensive VPN of all
CyberGhost
€76.56/2 years (€3.19/month)
The average price for a VPN
Mullvad
€60/1 year
(€5/month)
The only VPN that only offers to sign up for one month (and renews monthly)
ProtonVPN
€96/1 year
(€8/month)
The most expensive VPN of all
IVPN
$60/1 year (Standard)
$100/1 year (Standard)
Excellent pricing plan. very transparent
AirVPN
2 euros for 3 days; 7 euros a month; 15 euros for 3 months; 29 euros for 6 months; 49 euros for one year, 79 euros for 2 years, and 99 euros for 3 years
Cheap option with good pricing plans.
HIDE.me
€59.99/year
€79.99/2 years
€12.99/month
It has a free plan. Prices in the average in the plans of 2 and 3 years.
OVPN
€119.76/2 years
€59.88/1 year
€11/month
Somewhat high prices in the monthly plan. Good offer in the plan for 2 years.
vpn.ac
1 year ($58)
2 years ($90) $
9/month
Good 2-year plan. 7-day trial for only $2.
VyprVPN
Monthly for 13 euros per month
€7.17/month annual plan
somewhat expensive
What conclusions do we draw seeing the different prices?
Windscribe, NordVPN, and Cyberghost are mid-priced, neither high nor low…if you catch them on sale.
SurfShark and PIA are the cheapest VPNs at the moment. The first is a newcomer. The second is one of the oldest and most traditional providers.
ProtonVPN and ExpressVPN are the two most expensive VPNs. ExpressVPN has very fast servers.
Mullvad, OVPN, and IVPN are the only VPNs that offer monthly plans. In case you don't like the service… you leave without much problem. And you can subscribe completely anonymously. Its price is not bad.
Windscribe, ProtonVPN, and HIDE.me all have free plans. VPN.ac has a 7-day trial account for $2. It is not included in this list, but Atlas VPN offers a great free plan.
3.-What do you need to know to sign up for the best-paid VPN? The best VPN based on your needs
Well, in this post you will find the best VPN services of the year, but it is possible that you have very specific needs.
Not all VPNs offer the same thing. Not all VPNs work the same on macOS, Linux, or Windows… There are VPNs that are perfect for unblocking Netflix, others for YouTube, and others for downloading torrents…
4.-What should you look for in a good VPN? Which to choose?
IPSec IKEv2
OpenVPN
WireGuard
Description
It is part of the IPSec protocol suite. Standardized in  RFC 7296 . Standard protocol for secure communications over the Internet.
Open source VPN protocol. It uses a custom security protocol and  SSL/TLS  for key exchange.
WireGuard  is a very fast VPN protocol with state-of-the-art cryptography. It is simpler, safer, more efficient and easier to use.
encryption
Cryptographic algorithms 3DES, AES, Blowfish, Camellia. IKEv2 is usually implemented using AES with 256-bit keys.
It uses OpenSSL for encryption and cryptographic algorithms like 3DES, AES, RC5, and Blowfish.
AES is usually implemented with 256-bit keys.
Built on top of ChaCha20 for symmetric encryption ( RFC7539 ), Curve25519 for elliptic curve Diffie-Hellman (ECDH) anonymous key agreement, BLAKE2s for hashing ( RFC7693 ), SipHash24 for hashtable keys, and HKDF for key derivation ( RFC5869 ).
Speed
Faster than OpenVPN
With UDP mode it is just as fast as IKEv2
Higher speeds than OpenVPN
conclusion
Fast, safe, and reliable. Also, unlike OpenVPN, it does not require any additional software to be installed.
Fast, safe, and reliable.
Perfect for getting high speeds. Better security and higher speed than the other options.
Security and Privacy
Does a security audit company check the security of the VPN every so often? Good question. It would not hurt to check the security of the VPN from time to time.
If the VPN has a security breach, has it been reported? Very important. If the VPN suffers a security breach, we want to know about it. We don't want you to hide it.
Does the VPN website respect your privacy? We start the relationship badly if they "watch" us when entering their website. Choose a company that respects your privacy enough to use few or no tracking cookies, and that their website is HTTPS (with SSL certificate).Lockdown Draw.
Do you want to overcome firewalls or firewalls in countries like China? You are going to need a VPN that has things like multihop, TCP ports 443, SOCKS, SSL tunnels, SSH tunnels to bypass these restrictions.
Can you watch major streaming services in other countries? Well, it would not be bad to be able to Netflix, Hulu, HBO, Disney +, or Amazon Prime in other countries that are not yours. The VPN app you install should give you the opportunity to bypass geoblocks.
VPN privacy policy? It should not save your browsing history. It should not save your data. It has to have a good encryption protocol and it has to hide your real IP. A few things to keep in mind regarding the privacy provided by the VPN:
Support for OpenVPN and Wireguard, the two protocols used by most VPNs.
Anonymous payments with Bitcoin, cash, and gift cards. I have already mentioned it before.
Strong encryption: I'll talk about it a bit more later.
Who are they and why have they founded the company?
Where is your headquarters located? Does the country respect the privacy of its inhabitants and their companies? Is all company information public and is it clear who owns it?
Are your programs Open Source or proprietary? Being Open Source everyone can access the code and look for security problems
Does your website track you with cookies or Google Analytics?
Speed and Apps Server speed? 
It is essential that the VPN servers are fast and that there are locations all over the world.
And what about the VPN apps? 
They must be intuitive, easy to use, and available for all types of devices. It is useless to have the best VPN in the world, without then its applications are useless. They should offer you an automatic connection to the VPN, the ability to change the VPN protocol, and even block ads and malware from the websites you visit.
On how many devices will you be able to use your VPN connection? 
This is very important. You may not want to just pay for your VPN subscription to use it on your Android phone or iPhone, or on your home computer. Most VPN providers offer a number of simultaneous connections on multiple devices (between 5 and 10), and there are some that offer even unlimited connections.
Does the VPN service have a Double VPN (Double VPN) to maximize your privacy, anonymity and online security? 
With a Double VPN service, you can connect to two VPN servers and make it even more difficult for someone to locate or reach you. And if you use the multi-hop VPN (Multi-VPN) option, your security is increased by 4.
Do your servers allow connections for torrent downloads? 
Ad blocking?And not only that… Are your servers fast enough to download these types of files? They are usually files of many GB. We need a good connection, we don't want to spend weeks downloading the file. We are going to download torrents or any other file through P2P networks and we want to have certain anonymity.
Does the VPN have ad-blocking and malware blocking?
In recent times it is becoming fashionable for VPNs to also offer online ad blocking and malware blocking. It is an interesting option if they have implemented it well. Your online browsing will improve its speed and will be more secure. And you'll have fewer distractions. It would be interesting if they offered some modularity in this service, that is, if they let you activate and deactivate what ads you want to see or what type of pages you want to block or put on a white list.VPN trial period and services
VPN free trial period? 
Being able to sign up for the VPN yourself and try it out for a while. Most of the services have trial periods of between 7 to 30 days, but in case you don't have it… Why don't you sign up for a single month to try it and then decide if you want to upgrade to an annual or biannual plan? which will be cheaper?
Support and customer service? 
You are paying good money, so you have to ask for good customer service in case we have problems at some point.
Setup guides? 
Normally it is easy to configure VPNs on your computer or smartphone (install their apps and that's it), but if we get into the router and other devices, it might not be bad if the VPN provider has written some help guide for us.
Any free VPN?
I have selected a few that have some kind of free plan, but you always have to keep in mind that they will have limitations: speed, number of servers and countries, and number of devices… some can even put ads on you. I have only selected those that you can trust.
Anonymous payments? 
It would not be bad if they offered us to pay in cash, pay in Bitcoin or another cryptocurrency and with checks or gift cards that you can buy in large establishments. It is the most anonymous with which we are going to be able to pay at the moment. But it is important that they offer you many more options such as payment with PayPal, card, transfer, etc. And that you choose the method that interests you the most. You are looking for anonymity with your VPN… If they do not offer you anonymous payment, we are off to a bad start.
VPN in countries within 5 Eyes, 9 Eyes, or 14 Eyes.
What is this? They are alliances between countries. They share information about the security. Should I care if the VPN location I choose is located in one of these countries? The jurisdiction of your VPN should not be important… You should only worry if you are a criminal. Five Eyes:
Australia
Canada
New Zealand
UK
USA
Nine Eyes :
Countries in 5 Eyes
Denmark
France
Netherlands
Norway
14 Eyes :
Countries in 9 Eyes
Germany
Belgium
Italy
Sweden
Spain
And if you're a criminal you should use Tor, and some more custom encryption. Not a commercial VPN.If you are using a VPN to bypass Netflix or YouTube blocking, the NSA is not going to come after you. You just have to worry that the VPN you choose does not keep "logs" (records) of your online browsing.EYE! Where the servers you connect to are located is more important than where the VPN company's headquarters are located: this protects you from government excesses. Avoid connecting to countries that have limited internet freedom. That said, if you're seriously concerned about the security of your data, you should avoid the countries in the Five Eyes: these governments can shut down uncooperative companies or force the collection of information from VPN users.
Many of the Nine Eyes and 14 Eyes countries offer very strong privacy laws, especially when compared to the top 5 countries. For example? Germany, the Netherlands, Sweden…
For example, Tutanota, the email service I recommend for its privacy, is located in Germany. Mullvad VPN is in Sweden.Multiple VPNs owned by the same company?Important point. You have to take it into account. For a few years there has been a company called Kape Technologies (previously called Crossrider) that has been taking ownership of different VPN services:
In theory, they continue to maintain high privacy standards with their users' data, but it is something to keep in mind if you want to sign up for one of these VPN services. It is better to know in advance and assess whether it is worth it or not. eye! You also have to keep in mind that Kape Technologies bought the WEBSELENESE company that owns review pages for VPN services like vpnmentor… I say no more…As you can see, the world of VPNs is getting complicated and it is getting more and more difficult to choose a good option. The moral of all this is that many times it is not worth signing up for a VPN for many years. Suddenly the company is sold and you may have reasonable doubts about its mode of operation and privacy policies.5.-The best VPN in 2022: prices and comparison. Better options for privacy, security, and speed.
5.1.-The best VPN in 2022 for quality, price, and features: NordVPN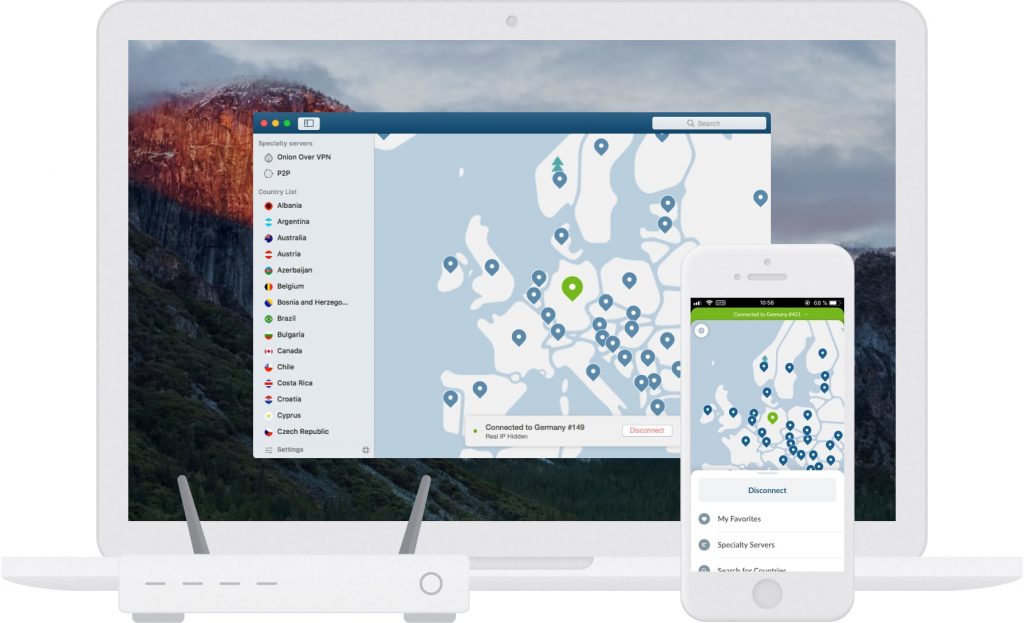 | Features | NordVPN |
| --- | --- |
| Use with torrents | Yes |
| streaming services | Netflix, HBO, Disney+, Hulu, etc… |
| Privacy policy | Does not keep records of you |
| apps | Windows, macOS, Android, iOS, Linux, routers, FireTV, Apple TV |
| servers | 5,100+ NordVPN servers in 60 countries around the world |
| number of devices | up to 6 |
| trial period | 30 days without commitment (free trial for 30 days) |
It is a company located in Panama that currently has servers in more than 60 countries. Panama does not have current data retention legislation.
It has a free trial. They usually have discounts almost all year round to lower the price of the subscription. Payment options? Credit card, Bitcoin (more anonymous impossible).
You can access your subscription on their website, where they have all their services at your disposal: NordVPN, NordPass, and Nordlocker. And where you can download their apps.
NordVPN offer! 68% discount!
NordVPN is currently offering a very significant discount on its 2-year subscription (68%).
2-year plan: €3.15 per month, €75.65 in total (68% discount)
1-year plan: €4.18 per month, €50.15 in total (58% discount)
1-month plan : €10.16 per month (0% discount)
About the speed of this VPN. Better you go to the next entry, where I tell it in detail. It's usually good, and it's gotten a lot better over the years. At the end of 2021 I have carried out the last speed tests and they have been spectacular:
NordVPN: privacy of this VPN service
NordVPN is one of those VPN services that are audited to ensure that they do not keep a log of your browsing. Their "no logs" policy is very good. We can trust them in this regard. The audit was carried out by PricewaterhouseCoopers AG in Zurich, Switzerland in 2019. In 2020 they carried out a second audit by VERSPRITE in which they also audited employees, VPN servers, and their entire infrastructure.
The most current has been carried out by VERSPRITE in June 2021 in its apps. This is the Windows one.
In their privacy policy, they make everything clear:
« Nord guarantees a strict no-logs policy for the NordVPN Services, which means that your Internet activity while using the NordVPN Services is not monitored, recorded, recorded, stored, or transmitted to third parties. We do not store connection timestamps, bandwidth used, traffic logs, IP addresses, or browsing data. From the moment a NordVPN user connects to one of our VPN servers, their Internet data is encrypted. Any activity on the Internet becomes invisible to the ISP, third-party snoops, or cybercriminals ."
NordVPN – Features, and Settings
Depending on the region you want to connect to, there are servers with different options, each one more interesting:
"Dual" VPN servers, which send your data to two encrypted VPN servers for added security
Tor through VPN servers: After you have connected, it routes all traffic through the Tor network
Connectivity via WireGuard, OpenVPN.
Anti-DDoS servers to protect you against network outage attempts.
Servers with dedicated IPs in the USA
30 days without obligation
NordVPN offers an automatic "Kill-Switch" to close apps or the entire internet connection
Adblocker: NordVPN has an option called CyberSec that blocks dangerous websites and allows users to avoid annoying ads
Restricted Countries – With the help of obfuscated servers, NordVPN works in countries like China or the Middle Eastern countries where internet access is restricted and there is strong censorship.
SmartPlay: A feature that unlocks over 150 streaming services by bypassing geo-restrictions. You can access Netflix, Hulu, Amazon Prime, and other services.
They offer dedicated IP that must be paid separately in the USA, Germany, UK, Holland, and France.
NordVPN also has "Ultrafast for TV" servers for the UK, US, Germany, Canada, and Spain. Who doesn't want to watch services like Netflix at full speed? NordVPN has some of the few VPN servers in the US that Netflix doesn't detect as a proxy. There are also no issues viewing BBC (BBC iPlayer) or YouTube content that is capped in other regions.
In 2021 they have added an interesting option: Dark Web Monitor, which controls if your email is for sale on the Dark Web. It is something that password managers like 1Password already did.
eye! It does not have Port Forwarding, something interesting to download torrents at full speed. They justify it by indicating that it can be a breach of your security. To get Port Forwarding you can go to Mullvad, AirVPN, or AirVPN.
What about the apps and programs available to install NordVPN?
We have a wide variety of systems:
macOS
Windows
Linux
Android
iOS
Synology
raspberry pi
tomato
D-WRT
Offers encrypted proxy extensions for Chrome and Firefox browsers
And best of all, we have tutorials to install each of them with beautiful photos, so you don't have any problems installing this VPN on any computer, NAS or Router. You can connect up to 6 devices at the same time. The applications are very visual and easy to use as you can see in the screenshots I have made (for Mac).
In favor:
Many servers available
High speed
Works with Netflix
Security and anonymity
connection speed
Support Torrent and P2P
own applications
Support for WireGuard
Supports up to 6 devices
Setup Simplicity
It has a 30-day trial version without commitment
Block web trackers and ads
Compatible with DD-WRT VPN (you can install it on your router)
Against: 
Somewhat expensive without discount coupons on their shorter-term plans, although their 3-year plan is quite cheap.
If you sign up with Paypal, it is difficult to remove the renewal of the subscription (you have to do it with Paypal).
It does not have Port Forwarding, something interesting to download torrents at full speed.
It does not have a specific app for routers
You can't configure anything in CyberSec
2.-Windscribe VPN: The best free VPN (with interesting options such as paid VPN)
| Features | windscribe |
| --- | --- |
| Use with torrents | Yes |
| streaming services | Netflix, HBO, Disney+, Hulu etc… |
| Privacy policy | Does not keep records of you |
| apps | Windows, macOS, Android, iOS, Linux |
| servers | Servers in 63 countries around the world |
| number of devices | unlimited |
| trial period | 3 days without obligation |
The first thing you have to keep in mind with this VPN is that Windscribe is a free VPN in one of its plans (one of the best at the moment) in which they offer you 10 GB of bandwidth per month and a limited number of locations of your servers. Its extensions for Chrome or Firefox are some of the most used for this reason and perhaps because this VPN offers great 256-bit AES encryption and OpenVPN. And they also give you access to Netflix in the US and UK with Windflix, but in this case, you will need to use their paid plans.Price? They have a free plan with up to 10GB of bandwidth per month, and then they have monthly plans that cost $9/month or yearly plans that cost $4.08/month. You can also "build" your own plan by accessing only certain servers: you will pay $1 for each country you want to access, with 10 GB per month per country… Or you pay $1/month if you want unlimited data. The approach is not bad if you only want to access certain countries. Windscribe has programs for Windows, Mac, and Linux (command line only). Extensions for Chrome, Opera, and Firefox (no Safari). Apps for Android, iOS, compatibility with OpenVPN, SOCKS5, and even the possibility to configure the VPN on your router (DD-WRT, Tomato…). It also offers the WireGuard protocol (faster). You can register at the following link: windscribe.com
Servers in more than 63 countries and 110 cities.
Block malware and ads on all your devices.
Policy of not keeping records (logs)
AES-256 encryption with SHA512 auth and a 4096-bit RSA key
Unblock US and UK Netflix
Portforwarding and static IP
Free plan with up to 10 GB of bandwidth
Apps for most desktop and mobile platforms
Browser extensions
Windscribe and privacyWindscribe is a Canadian company… Is that bad? I think not. Especially since they don't keep your records… or your email…
eye! In July 2021 they had a problem with their Ukrainian servers: « On the disk of those two servers there was an OpenVPN server certificate and its private key. Although we have encrypted servers in highly sensitive regions, the servers in question were running a legacy stack and were not encrypted. We are currently enacting our plan to address this ." Looks like they've fixed it. Hopefully, they'll be more careful from now on. The good thing is that they made it completely public.
The settings that Windscribe uses to protect your privacy are very strong: they use SHA-512 encryption for authentication and a 4096-bit RSA protocol that establishes the secure connection. All data is transferred using AES-256 encryption. Windscribe PC and Mac applications have a firewall to protect you from " data leak " (leave it in automatic mode). You are safe from WebRTC, IP, or DNS Leak.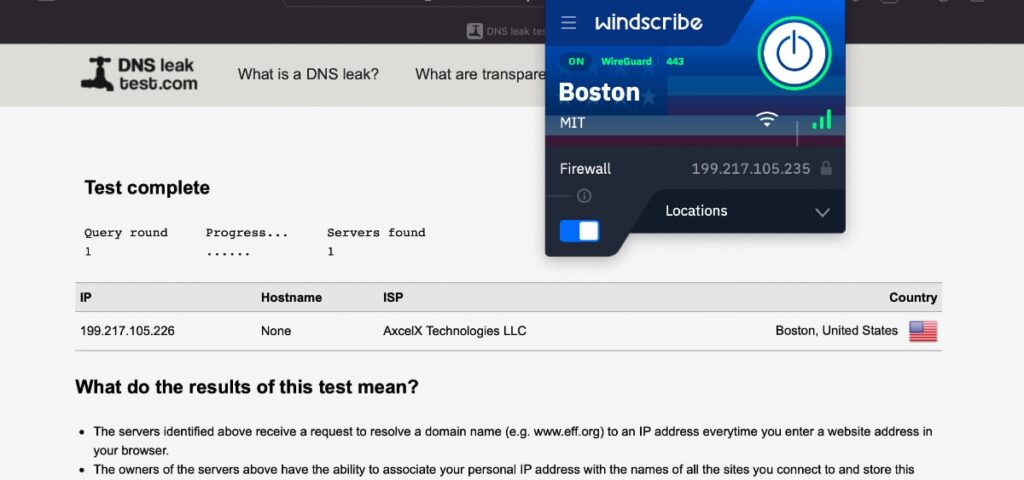 Do you keep any log of yours? Only one thing, and only for 1 month: the bandwidth you are consuming, but most VPNs do too. Windscribe Performance and FeaturesWindscribe has fewer options than other VPNs: they don't let you choose as many settings as apps from other VPN providers. You can change your connection between TCP and UDP, the protocol and port, the firewall mode (a kind of Kill Switch but without being able to choose specific apps on your computer), the proxy, or view the logs. They don't have as many server options as the other options. And what about the speed of their servers? I have done several tests at the end of 2018 and in 2021 with symmetric fiber optic connection with 600 MB (2018) and 1000 MB (2021). The results are really good, almost always above 100, 150 Mbps, and even more than 270 Mbps in 2021 (connection in Spain). In the case of the UK and USA, you will be able to watch Netflix without problems with these speeds. In favor:
Free VPN: 10 GB of free data per month
Good speed on many servers
With highly customizable ad and malware blocker
You can watch Netflix, Amazon Prime Video, Disney+
With browser extensions
Works with torrents and P2P (Port Forwarding)
WireGuard support and in areas such as China
Very flexible plans, even a personalized one
Against:
Improved speed compared to other services
Could improve support
Location of the company in Canada
3.- Surfshark: cheap, fast, and with good programs for Windows
| Features | surf shark |
| --- | --- |
| Use with torrents | Yes, on all servers |
| streaming services | Netflix, HBO, Disney+, Hulu, etc… |
| Privacy policy | Does not keep records of you |
| apps | Windows, macOS, Android, iOS, Linux, Fire TV, Apple TV |
| servers | 1700+ servers in 63 countries around the world |
| number of devices | unlimited |
| trial period | 30 days without obligation |
Price: 1.75 euros/month in the 2-year plan (4.99 euros/month in the annual plan)
CleanWeb – Ad Blocker
Unlimited devices
Whitelister: Allow certain apps and websites to bypass the VPN.
"No Logs" Policy
Kill Switch
private DNS
camouflage mode
Multihop (multiple VPN connections)
Noborders mode: allows to use of Surfshark in restrictive regions.
AES-256-GCM encryption
IKEv2/IPsec and OpenVPN protocol
Audited by Cure53
Use of torrents and Netflix
More than 1700 servers in 63 countries.
An excellent option for Windows, especially since they offer all their functionalities for this platform. The speed of their servers is really good. Your privacy policy as well. You can use this VPN on unlimited devices, it has Multihop VPN, they are edited by Cure53 and it works with Netflix and torrents. You can not ask for much more. Surfshark uses AES-256-GCM with RSA-2048 with IKEv2 (excellent performance) and OpenVPN protocols . Surfshark is a highly recommended VPN with an excellent price and very good server speed. One of the best VPNs of the year. They do not keep records of you, something that is very good for our security and anonymity. You can go to their Terms Of Service and Privacy Policy and check it out for yourself:« We do not save IP addresses, browsing history, session information, bandwidth used, connection timestamps, network traffic, and other similar data. We can guarantee such a policy, as we are located in the British Virgin Islands, which do not require data storage or reporting, and the processes related to the provision of our Services are automated ."Server speed? Spectacular in testing. One of the best I've tasted in recent years.

Surfshark vpn test speed Madrid
One of the few drawbacks that you will find is that it's Android app has many trackers (checked in exodus ), but it is something common in most Android VPN apps. It has an ad blocker, camouflage mode, Kill Switch, which allows certain apps and websites to bypass the VPN, private DNS, and noborder mode to use the VPN in China (for example). In favor:
WireGuard available in all apps
You can watch Netflix, Amazon Prime, Disney+
Very cheap
good support
Against:
OpenVPN speed could be better
Kill Switch bugs
4.-The best VPN by number of options in 2022: Private Internet Access (PIA)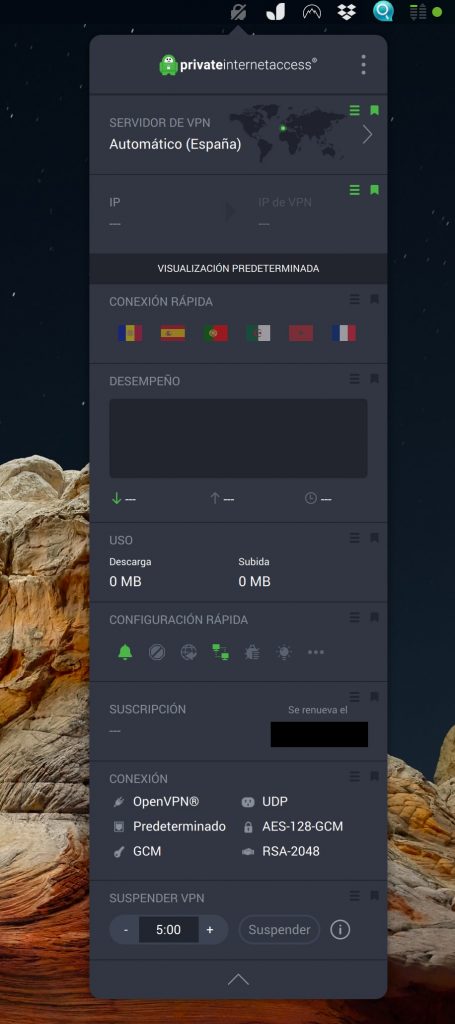 | Features | PIA |
| --- | --- |
| Use with torrents | Yes, on all servers |
| streaming services | Netflix, HBO, Disney+, Hulu etc… |
| Privacy policy | Does not keep records of you |
| apps | Windows, macOS, Android, iOS, Linux or routers |
| servers | 15,000+ servers in 74 countries around the world |
| number of devices | 10 devices |
| trial period | 30 days without obligation |
It is one of the "VPN" companies with the best reputation on the market for quite some time now, and this year it continues to be one of the best options for the quality price to secure your internet connection. eye! It seems that they have been bought at the end of 2019 by the same company that already owns CyberGhost. It does not have to be bad, but it must be taken into account. There is no free trial, but you get your money back within 30 days of signing up. Price? €1.94/month on its 3-year plan (the cheapest). The company accepts payments in Bitcoin, Paypal, credit cards, and many other options. You can access this VPN through the following link: PIAPrivate Internet Access: 10 questions about anonymity and privacy of this VPN service 
They do not store logs related to traffic, session, DNS, or metadata.
It is operated by London Trust Media, Inc., with branches in the United States and Iceland, which are some of the countries that still respect privacy and do not have a mandatory data retention policy. They do not monitor their users, and they do not keep any logs.
All of their VPN systems and tools are proprietary. They use some third-party tools to provide a better customer experience.
Although they have not received valid court orders, they regularly receive subpoenas from copyright enforcement agencies that they review for compliance. They do not record data about their customers other than their username and registration email.
BitTorrent and file-sharing traffic is allowed and treated the same as other traffic.
You can pay with PayPal, Credit Card (with Stripe), Amazon, Google, Bitcoin, CashU, and any gift card purchased in stores and OKPay.
It uses AES-256 + RSA4096 + SHA256 encryption.
It has Kill Switch, DNS Leak, IPv6 Leak, MACE (protection against malware)
PIA has clients for the following platforms: Windows, MacOS, Linux, Android, and iOS
They use their own servers in third-party data centers that are operated by business partners. They have their own DNS.
PIA – Performance, Features, and Configuration
PIA control panel on your website with the options to configure
It has more than 15,000 servers in 74 countries around the world and supports 10 devices. PIA has been offering one of the best services on the market for quite some time. The service supports up to five devices, PPTP / OpenVPN and L2TP / IPSec protocols, SOCKS5 proxy and has no restrictions for P2P. It also protects the DNS and has a Kill Switch. The upload and download speeds are not the best in the world, but it is still perfectly possible to download torrents. They recently added an ad and tracker blocking tool called MACE capable of blocking web page ads and trackers. On its website, you can configure payments, dedicated IP, subscription or download your apps. And the applications and programs available to install PIA?
mac os x
Windows
Linux
Android
iOS
PIA's interface for its programs has improved a lot in recent years and they have quite a few options to configure. As soon as you download its app, it gives you good instructions on everything you can configure:
All this is immediately forgotten as soon as we see that we can watch 4K videos without latency. Unfortunately PIA does not work with Netflix.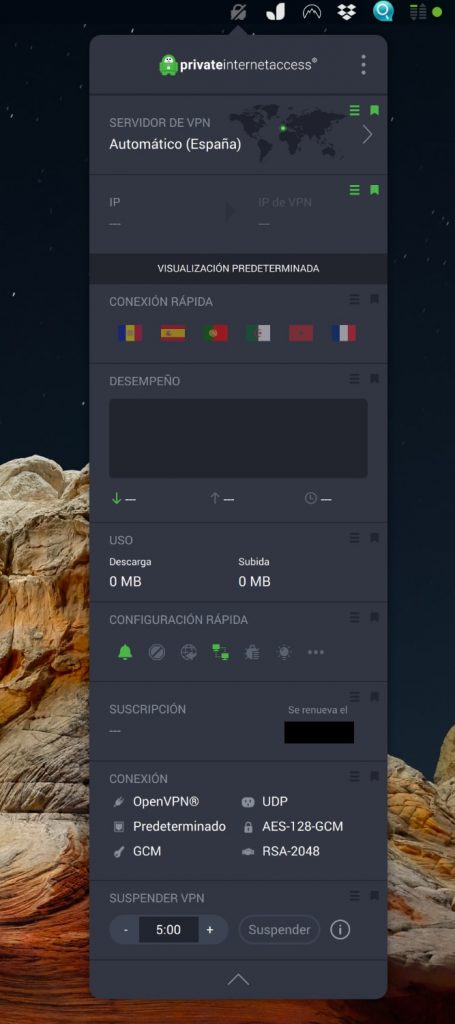 In favor:
very cheap VPN
Good apps with great design and functionalities
Supports many operating systems
Very good speed on all their servers
Very safe apps with ad and malware blocker
Good privacy and security
Does not keep records
Against:
Sometimes it doesn't work with Netflix
Located in the United States (5 eyes; a country with bad privacy policy)
Geo-located servers (virtual locations)
5.-The best option in 2022 for the speed of its servers: ExpressVPN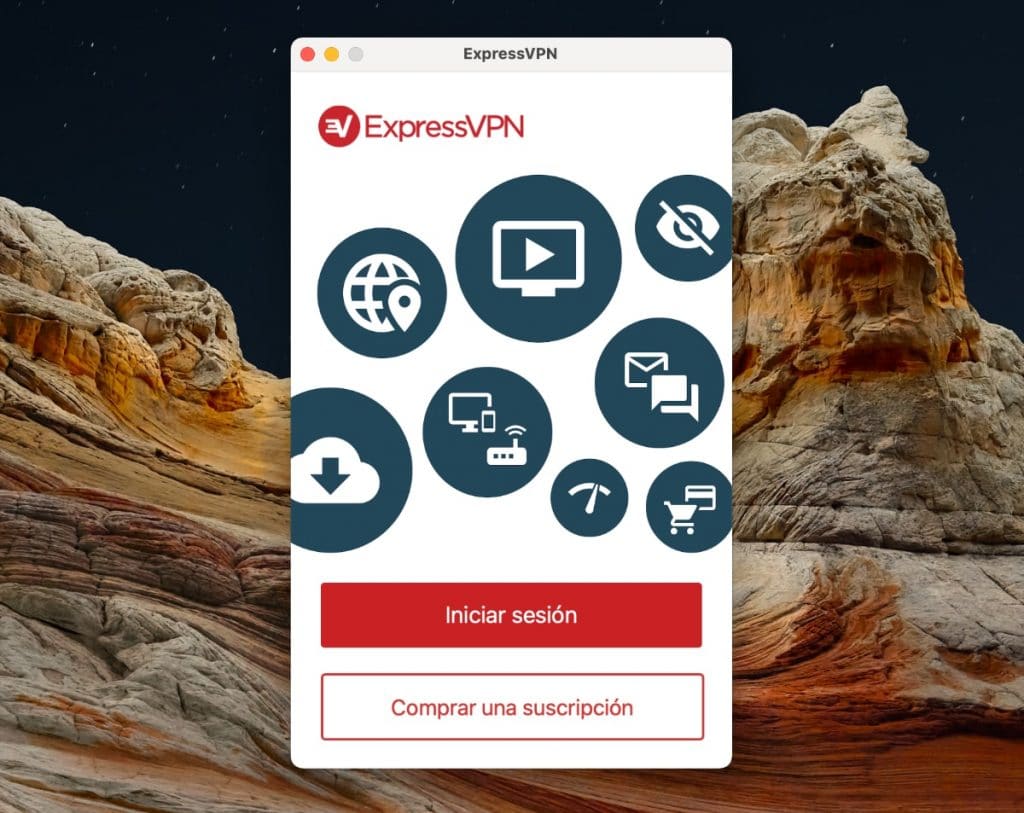 | Features | ExpressVPN |
| --- | --- |
| Use with torrents | Yes, on all servers |
| streaming services | Netflix, HBO, Disney+, Hulu etc… |
| Privacy policy | Does not keep records of you |
| apps | Windows, macOS, Android, iOS, Linux or routers |
| servers | 3000+ servers in 94 countries around the world |
| number of devices | 5 devices |
| trial period | 30 days without obligation |
You can sign up at the following link:  ExpressVPN Works on Windows, Mac, iOS, AndroidThis British Virgin Islands VPN provider offers good download speeds and excellent options for mobile iOS, Android but also routers, Fire TV, Xbox, Playstation, Linux, and many more. Supports up to 5 devices and does not keep logs. It works perfectly to connect to Netflix in the United States.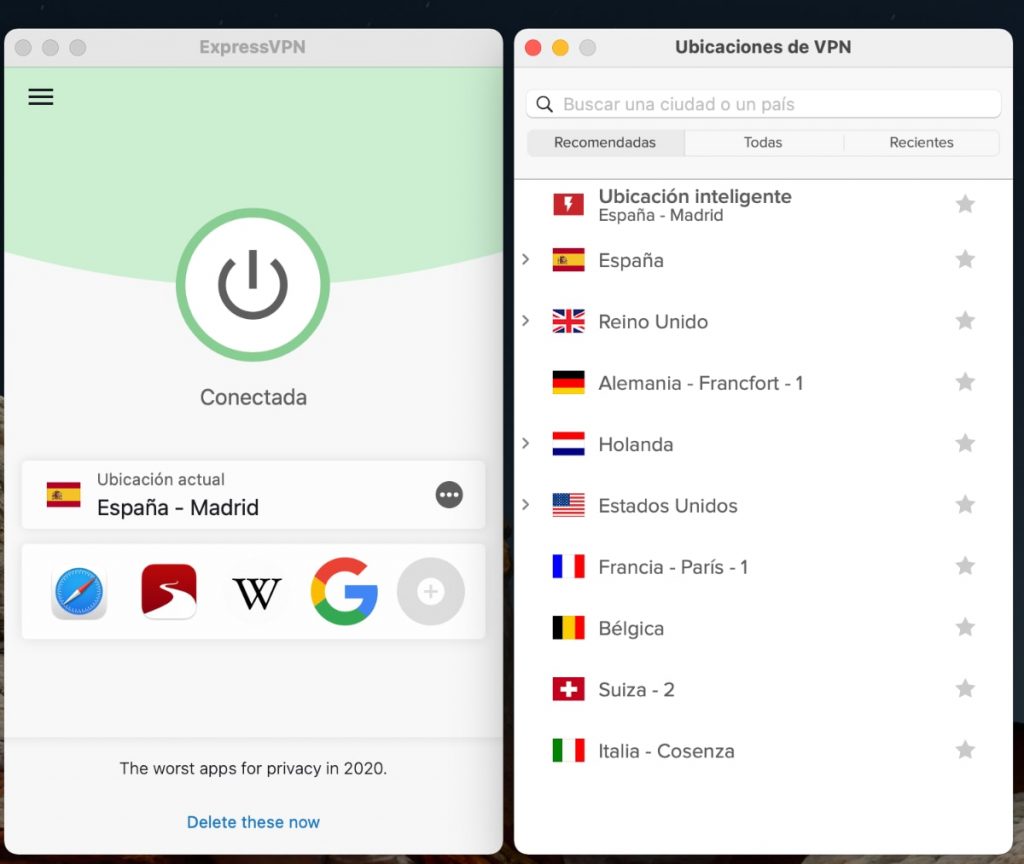 Too bad you can't choose the servers due to latency, although the app itself gives you the best options automatically.It only allows 5 simultaneous connections, but we can probably live with that. Another great feature of this VPN is ExpressStreamer DNS, which unblocks Netflix on devices that don't support VPN (such as Apple TV, smart TVs, and game consoles).eye! If you do not want to renew the subscription of this VPN, be careful to always check the button to not renew the subscription automatically… and there are a few… do not trust… there is even one at the end that you do not expect. It has the following outstanding features:
OpenVPN:  The ExpressVPN app for Mac uses OpenVPN, the VPN protocol that offers the highest security and best performance, by default.
I recommend that you use the Lightway UDP protocol: it is the fastest option by far. It is available for Windows, MacOS, Linux, or Android.
Network Lock kill switch:  If your VPN connection drops unexpectedly, ExpressVPN prevents your traffic from being exposed to third parties.
Per App Connection (Split Tunneling):  You choose which apps will use the VPN, and which won't when you connect to ExpressVPN
Speed ​​of your servers? After a few tests, you realize that they may not have the best speed on the server that is closest to your location, but they have one very good thing: the speed on all their servers is kept at the same level in almost all their locations, which is very good, especially if you want to watch live movies from a certain country.ExpressVPN: 10 anonymity and privacy issues with this VPN service
ExpressVPN is an anonymous, offshore, zero-logging service provider.
Express VPN International Ltd. is a BVI (British Virgin Islands) company. The British Virgin Islands is a small independent nation in the Caribbean recognized as an offshore jurisdiction with strict privacy regulations and no data retention laws.
They use third-party website analytics tools, such as Google Analytics. They use Zendesk for support and Snapengage for live chat.
 Court orders? Since they are a network service provider rather than a content host, there is nothing to give. They also do not attempt to identify ExpressVPN users. They would have to send a court order in the British Virgin Islands for it to be legally valid. If they receive a request from another jurisdiction, they let them know that they do not keep records that would allow them to match an IP address to an ExpressVPN user.
ExpressVPN allows all traffic including BitTorrent on all VPN servers and does not impose restrictions based on the type of traffic.
Payment options: VISA, MasterCard, and American Express. They also accept PayPal and a large number of local payment options or bitcoin.
They use 4096-bit CA encryption, AES-256-CBC encryption, TLSv1.2 and SHA512
Having a Network Lock prevents all types of traffic, including IPv4, IPv6, and DNS, from leaking out of the VPN network
They have apps for Windows, Mac, iOS, Android, Linux, and routers
VPN servers are hosted in trusted data centers with strong security practices. Data center employees do not have server credentials and server disks are fully encrypted to mitigate physical seizure risks. They run their own DNS servers.
It has 256-bit encryption in OpenVPN, L2TP – IPSEC, PPTP, and SSTP protocols. This VPN is a bit more expensive than other options, but it comes with a 30-day money-back guarantee. ExpressVPN offers three pricing plans. It costs about $8 per month on the 12-month plan. It's not the cheapest, but it's one of the best.
From ExpressVPN they recommend the following to watch Netflix: "To find the fastest VPN server location to use Netflix, take the speed test and choose the server location in the USA with the highest Speed ​​​​Index".
In favor:
Apps for all types of operating systems
Easy to use apps
Large number of servers
Respect your privacy and do not keep "logs"
Great support and customer care
Excellent speed throughout your server network with the Lightway protocol
Servers that work only with RAM memory
Works with Netflix, Disney+ and torrents
Good encryption.
Against:
Somewhat high prices
Connection via OpenVPN works slower
Apps need a more modern design
They do not have as many features as other VPNs (Double VPN, ad blocker, Tor servers…)
6.-CyberGhost: Another VPN that will not disappoint you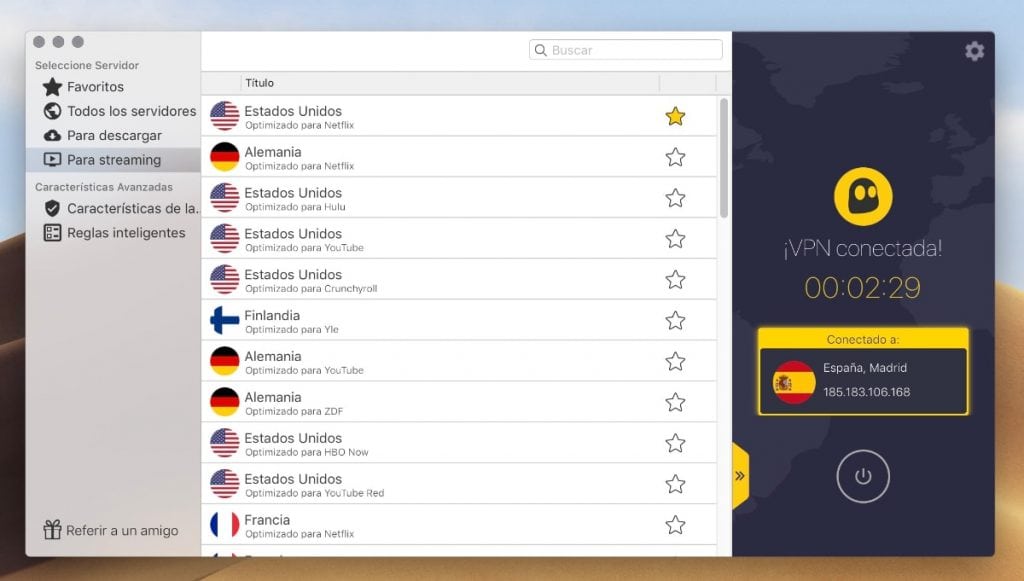 | Features | CyberGhost |
| --- | --- |
| Use with torrents | Yes |
| streaming services | Netflix, HBO, Disney+, Hulu etc… |
| Privacy policy | Does not keep records of you |
| apps | Windows, macOS, Android, iOS, Linux or routers |
| servers | 6,600+ servers in 90 countries around the world |
| number of devices | 7 devices |
| trial period | 45 days without obligation |
Another VPN provider, CyberGhost, where you can pay with Bitcoin and gives you access to Netflix anywhere in the world. In your app, you will find a specific section to unblock streaming. And they tell you specifically what you're unblocking, for example, Netflix USA (but also HBO or YouTube). They also accept payments with PayPal, bank transfer, VISA, or MasterCard. You can sign up for CyberGhost.Programs? It has apps for Mac, Windows, iOS, Android, Chrome, Firefox, Android TV, and Fire TV and you can use OpenVPN, L2TP, or IPSec on Linux. servers? More than 3700 in 60 countries, with specific options to watch Netflix, stream, or specialized download servers. They don't have as many as other VPN providers. Free trial? On Windows, you have a 24-hour trial. With the iOS or Android app, you have 7 days. You can start with the smartphone apps and try them for 7 days to see if you like the performance or to see if you can access NetflixCyberGhost and privacy does CyberGhost protect your privacy? Well, that's what it seems: they don't keep any "log" of your activities. In its privacy policy, you can read it clearly: "CyberGhost has an unequivocal policy as a company: the strictest compliance with data protection and the uncompromising protection of user privacy. So, when using CyberGhost VPN, user movement data such as browsing history, movement destinations, data content, and search preferences are not tracked, recorded, recorded, or archived by the Company. Also, when using CyberGhost VPN, we do not keep connection logs, meaning we do not have any logs related to your IP address, connection timestamps, or session duration.But, it does seem that they share "Non-Personal Data" when using their website something that the other services do not do. This is not so cool…"We may share Non-Personal Data associated with the use of our Website with third-party service providers for the purpose of optimizing our Website and Services, as well as customer analytics (for example, VWO, Facebook, Yahoo, Twitter, Bing, etc.). Google, Mixpanel, Instabug, BugSplat, OpenX, etc.)»CyberGhost PerformanceRight now I have a symmetrical 600 Mbps connection located in Madrid, Spain: Well, the truth is that from the fastest connection in Madrid, practitioners do not notice a difference in speed with or without a VPN connection. From the United States to watch Netflix you reach almost 200 Mbps and from the Netherlands for downloads, it reaches almost 140 Mbps. In any of the cases, you will not notice that your internet use speed is worse. In favor:
Works with Netflix, Amazon Prime, Disney+
good support
Good server speeds
Against:
Does not unblock some streaming services
Very basic apps on some OS
More VPN providers or opinions of these services? There are more options and opinions at  pcmag.com .7.- Mullvad: perfect VPN to maintain your anonymity
| Features | Mullvad |
| --- | --- |
| Use with torrents | Yes |
| streaming services | Yes, it works with Netflix |
| Privacy policy | Does not keep records of you |
| apps | Windows, macOS, Android, iOS, firefox extension |
| servers | Almost 800 servers in 38 countries around the world |
| number of devices | 5 devices |
| trial period | 30 days without obligation |
The perfect option to maintain your anonymity: you do not need to give your name or email to create an account. Your privacy policy is very good.
It has 759 servers in 64 cities and 38 countries right now.
Price? It only costs €5 per month and you can use it on up to 5 simultaneous connections. And they don't offer annual subscriptions, you have to pay month by month, so if you don't like them, you unsubscribe the following month.
You can pay with PayPal, credit card, bitcoin, cash, bank transfer…
Do you know what I liked the most? Its subscription policy: simple (you pay month by month, no offers, fixed price… if you want you can leave if you want you can stay). It costs 5 euros per month. You subscribe month by month… Don't you like it? You're leaving… What a peace of mind all this gives me… It seems like they have to work constantly to keep their customers. You can also pay in advance for up to 1 year of subscription.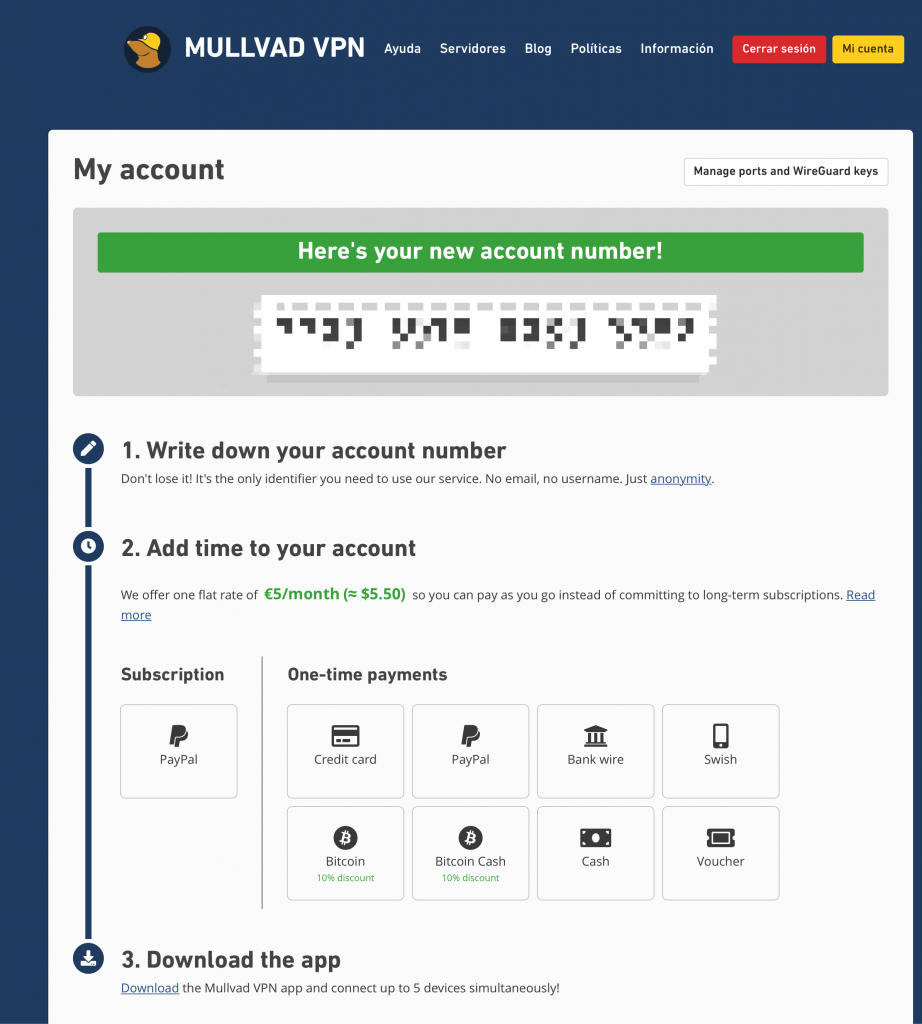 Having said all this, they have also shown to have fast servers, ease of configuration (in 3 minutes you have it ready), anonymity when registering and paying (no e-mails, you can pay in Bitcoin), has the new protocol, Wireguard, which is faster than OpenVPN and they don't keep logs of you.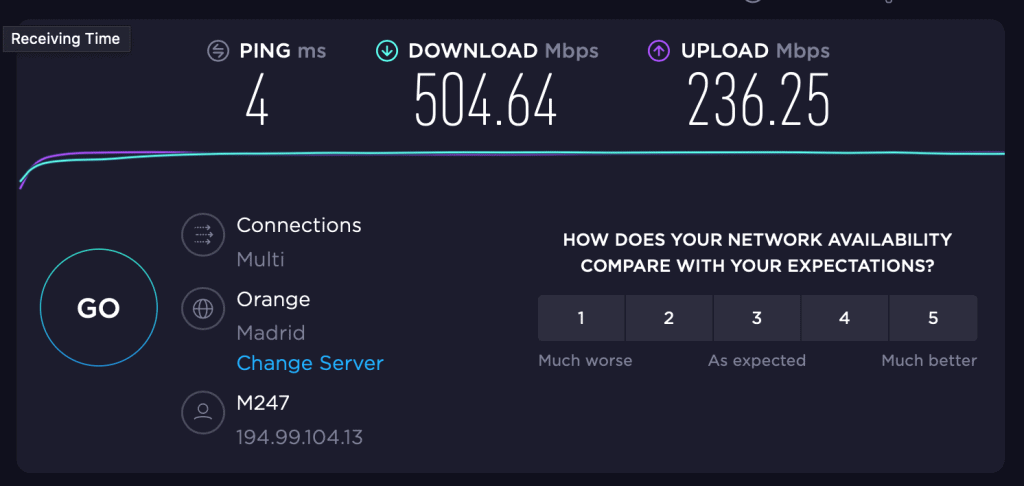 Mullvad speed server Spain
Mullvad and privacy
There is no traffic log.
DNS requests are not logged.
There is no logging of connections, including when one was made, when one was disconnected, for how long, or any kind of timestamp.
IP addresses are not logged.
There is no record of the user's bandwidth.
Account activity is not recorded, except for total simultaneous connections and payment information.
More good stuff? Open Source Apps, they are audited, they support IPv6, you can do "Port Forwarding" (perfect to use with P2P or Torrents), their apps have a Kill Switch (everything closes if the connection is lost), Mullvad has worked for me for watch Netflix in the United States (other online reviews say it doesn't work for them)… It also has Multihop and Sock5.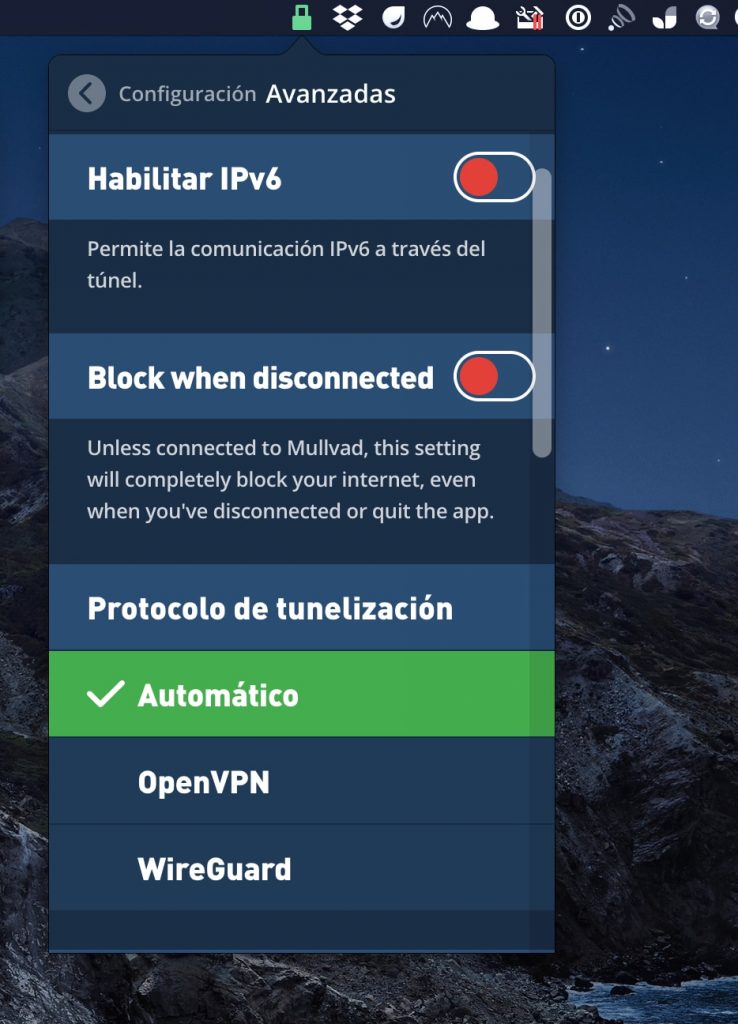 Any bad thing? They have fewer server locations than other VPN providers ("only" 36 countries), they do not offer an ad blocker within the VPN, I have not been able to specifically select servers adapted for P2P, Tor, etc. (but they work perfectly for this type of download)… You only select the country and the city…In favor:
Excellent privacy at check-in
Does not keep records of you
Without trap or cardboard: monthly plan
Good server speed
With MultiHop and Socks5
Unblock Netflix
Can be used with P2P and torrents
WireGuard protocol is automatically available
Can be used on 5 devices at the same time (or installed on your router)
They are audited from time to time (Cure53)
Against:
Apps do not have all options on all operating systems
Doesn't unlock Disney+, HBO MAX
No discounts on your pricing plan (only if you pay with Bitcoin)
It does not have a free version (but they return the registration money for 30 days)
8.-Best free VPN for Reddit: ProtonVPN

| Features | ProtonVPN |
| --- | --- |
| Use with torrents | Yes |
| streaming services | Netflix, HBO, Disney+, Hulu etc… |
| Privacy policy | Does not keep records of you |
| apps | Windows, macOS, Android, iOS, Linux |
| servers | 1000+ servers in 54 countries around the world |
| number of devices | 10 devices |
| trial period | 30 days without obligation |
Using a free VPN always has its risks, but in this case, we can trust it. ProtonVPN has a free version and then some very interesting payment plans. You can always start with their free plan, and when you sign up and install the app they offer you a 7-day trial on their payment plan. Depending on the payment plan you choose, you will have better features. At a basic of 4 $/month, you can connect with 2 devices, in 50 countries, and with P2P support. Then it goes to Plus for $8/month, 5 simultaneous connections, P2P support, Secure Core VPN, Tor over VPN… and finally the Visionary plan for $24/month with all Plus sales plus 10 simultaneous connections and access to ProtonMail, your mail service.If you only need a VPN for one device, this is a perfect service: there is no usage limit. eye! You can only use their servers in the US, Holland, and Japan and the speed is not the maximum. Speed ​​in your payment plans? Spectacular. I've tried a few and the truth is that they go like a shot. Look at the following graph: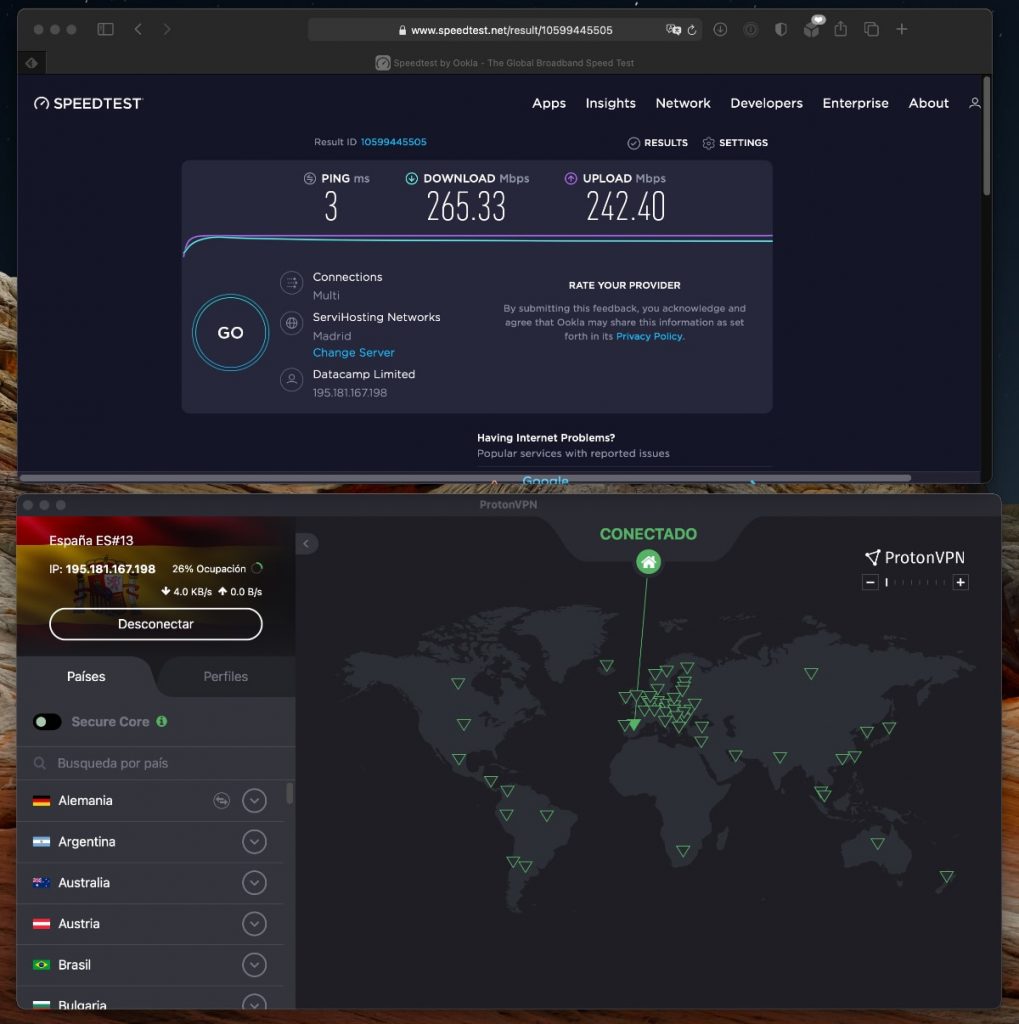 Its app is very visual, although later many options cannot be configured in it. Profiles can only be created with your favorite VPN servers. Perfect for newbies (no changing protocols and so on). They have an interesting thing: "Secure Core", which offers extra security by routing your connection through the ProtonVPN network. And it has a Kill Switch. In favor:
Excellent server speed
Good app design: very easy to use
The best free plan to sign up for a VPN
Various pricing plans
Works with streaming services
Has P2P servers, Tor
Secure Core network with extra security
They keep no records of you and are located in Switzerland
Applications are open source and audited
Against:
One of the most expensive VPNs in its plans with more features
small server network
Little configuration in your apps (protocols)
Does not have an ad blocker
You have to sign up for the ProtonVPN Plus plan to have the best options
9.-IVPN: an excellent option for privacy and security
| Features | IVPN |
| --- | --- |
| Use with torrents | Yes |
| streaming services | Netflix, HBO, Disney+, Hulu etc… |
| Privacy policy | Does not keep records of you |
| apps | Windows, macOS, Android, iOS, Linux |
| servers | About 100 servers in 31 countries around the world |
| number of devices | 2 devices (Standard) and 7 in Pro plan |
| trial period | 30 days without obligation |
IVPN, like Mullvad, offers a very transparent business that is properly audited by third parties, a pricing policy that is neither tricky nor cardboard and offers very good features. The privacy and security of its users is above all else.
IVPN is owned by Privatus Ltd and operates under the legal jurisdiction of Gibraltar. It's not bad at all. Gibraltar is a good option when it comes to online privacy. IVPN completed its second audit by Cure53 in January 2020 (external infrastructure and service backend ).
"Our VPN servers do not store any logs that could be used to identify a client. This is backed by a logless audit conducted by independent security researchers." It's all in their privacy policy and legal process guidelines.
There is no free subscription or deep discounts, but IVPN offers everything you could need in a VPN for a fair price. It has WireGuard.It has apps for Windows (the most complete), macOS, Linux, iPhone, iPad, Android, routers with different operating systems (DD-WRT, OpenWrt, pfsense, ASuswrt, OPNsense, Tomato), and NAS (Synology and QNAP). Your Android app is available in the F-Droid open source app repository. It doesn't have many servers worldwide, but the ones it does have are very fast. Their apps work fine, but there are some options that offer more features than others. It works with Netflix and you can download torrents.MultiHop service and port forwarding are only available on the slightly more expensive Pro plan. eye! They have support by Chat and by e-mail. In favor:
Excellent privacy policy
Good pricing policy
Easy to use apps
Good server speed
Works with Netflix and torrents (P2P)
Open Source Applications
Money-back up to 30 days
Against:
few servers
No free trial plan
10.-AirVPN: The VPN for advanced users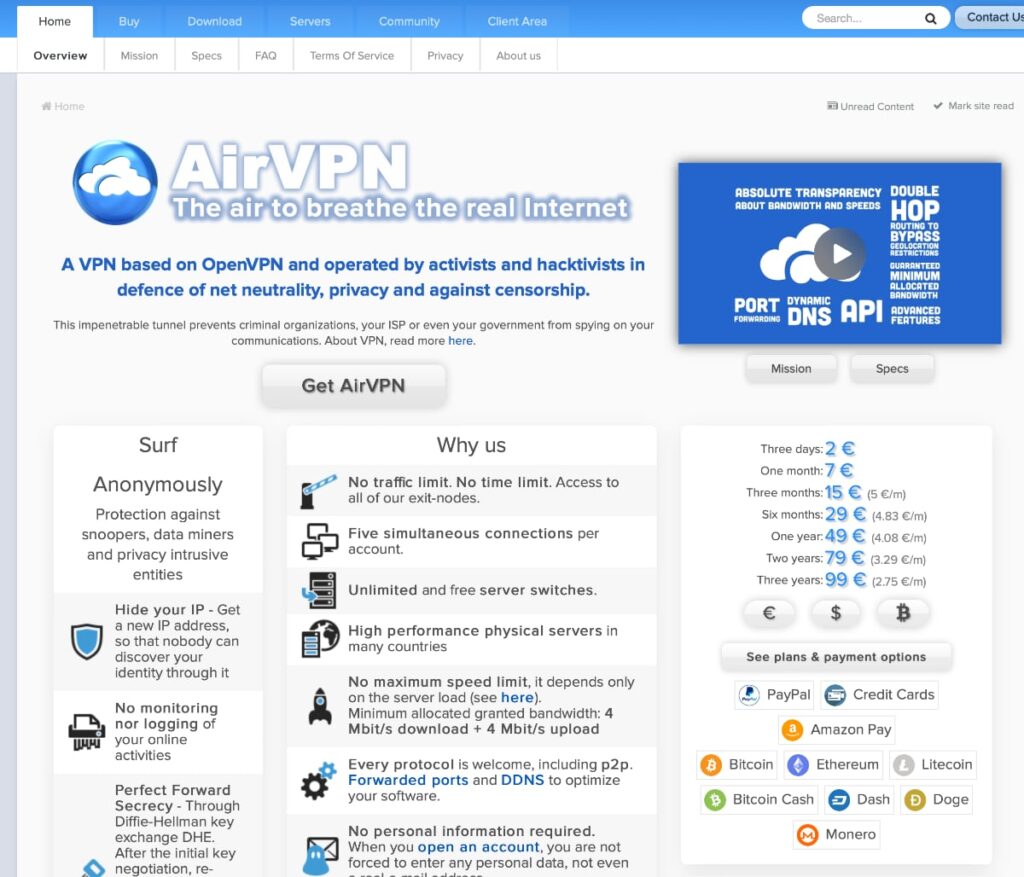 | Features | AirVPN |
| --- | --- |
| Use with torrents | Yes |
| streaming services | Netflix, HBO, Disney+, Hulu, etc… |
| Privacy policy | Does not keep records of you |
| apps | Windows, macOS, Android, iOS, Linux, routers |
| servers | 243 servers in 22 countries around the world |
| number of devices | Up to 5 |
| trial period | 30 days without commitment (with a free trial period) |
It is not a commercial VPN to use. It is the perfect VPN for advanced users.« AirVPN started as a project of a very small group of activists, hacktivists, and hackers in 2010, with the invaluable help (and totally free) of two fantastic lawyers and financing from a company interested in the project and operated by the same people. .. AirVPN started as a completely free service for anyone in April 2010. It soon added a commercial side aimed at keeping the project financially sustainable, capable of supporting the impact of free access to activists in countries hostile to human rights, and guaranteeing the team a monetary base that could allow full-time dedication. «Their price is great and they offer many payment options, including various cryptocurrencies:
2 euros for 3 days
7 euros a month
15 euros 3 months
29 euros for 6 months
49 euros for one year, 79 euros for 2 years, and 99 euros for 3 years
You can register at the following link: AirVPNAll your Open Source apps. For the most popular operating systems such as Windows, Linux, or macOS, have their Eddie app and in the others, you can download the configuration and use it in WireGuard, OpenVPN and others.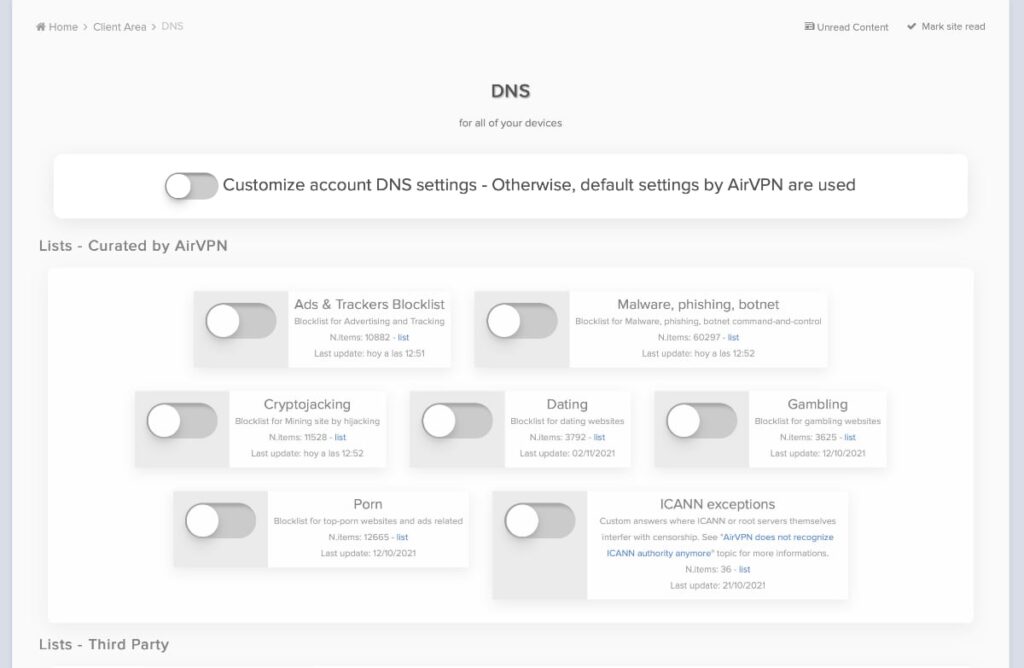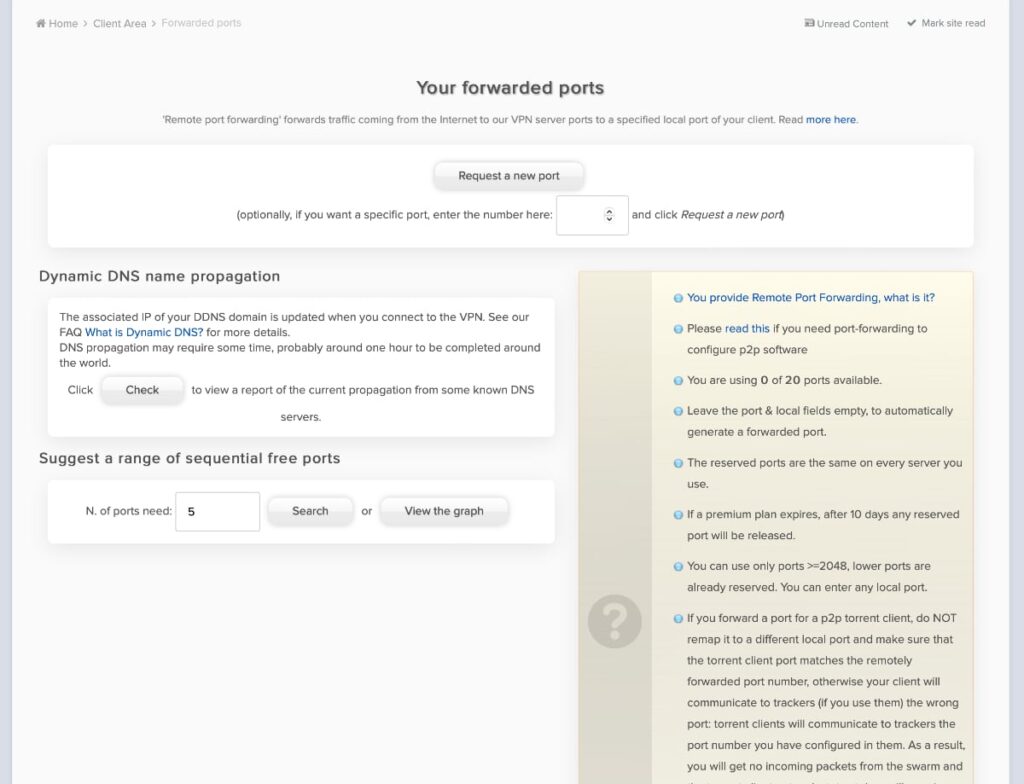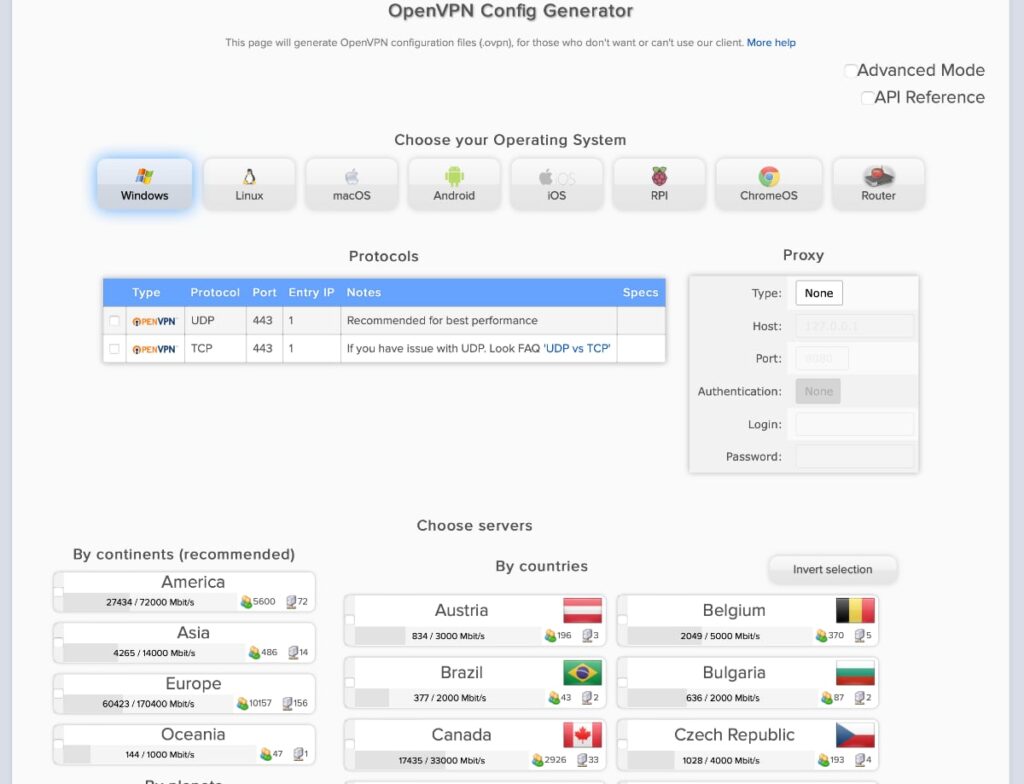 I was especially surprised by the DNS section where you can configure the ad blocker and trackers with a surprising degree of detail. I am only going to put the lists controlled directly by AirVPN, but there are many more (see the images):
Ads & Trackers Blocklist
malware, phishing, botnet
Cryptojacking
Dating
gambling
porn
ICANN exceptions
They offer Port Forwarding and Split Tunneling. Works with torrents and major streaming services.And also your privacy: They do not keep records of your browsing habits: « The technical data that is strictly necessary for Internet/network connections that are specifically related to the service are handled by automatic systems only in RAM and only for the moment necessary to provide the service. Activity traffic and/or traffic content and/or IP addresses of customers or users are not inspected, recorded, or stored on any mass storage device. «In favor:
Perfect for advanced users
Very transparent usage policy
Lots of settings and features
Good server speed
Excellent privacy and security policy
very good prices
With OpenVPN and WireGuard support (in beta phase)
With Kill Switch
Perfect for streaming and torrenting
With port forwarding and split tunneling
Support for Linux and routers
With highly configurable ad and malware blocker
Against:
Somewhat dated design on web and apps
Apps with many options that can intimidate beginners
They do not have a native app for iOS or Android
Many extra options (that you have to get to know little by little)
Fewer servers than other VPNs (but all very secure and controlled by them)
11.-HIDE.me: fast servers and free plan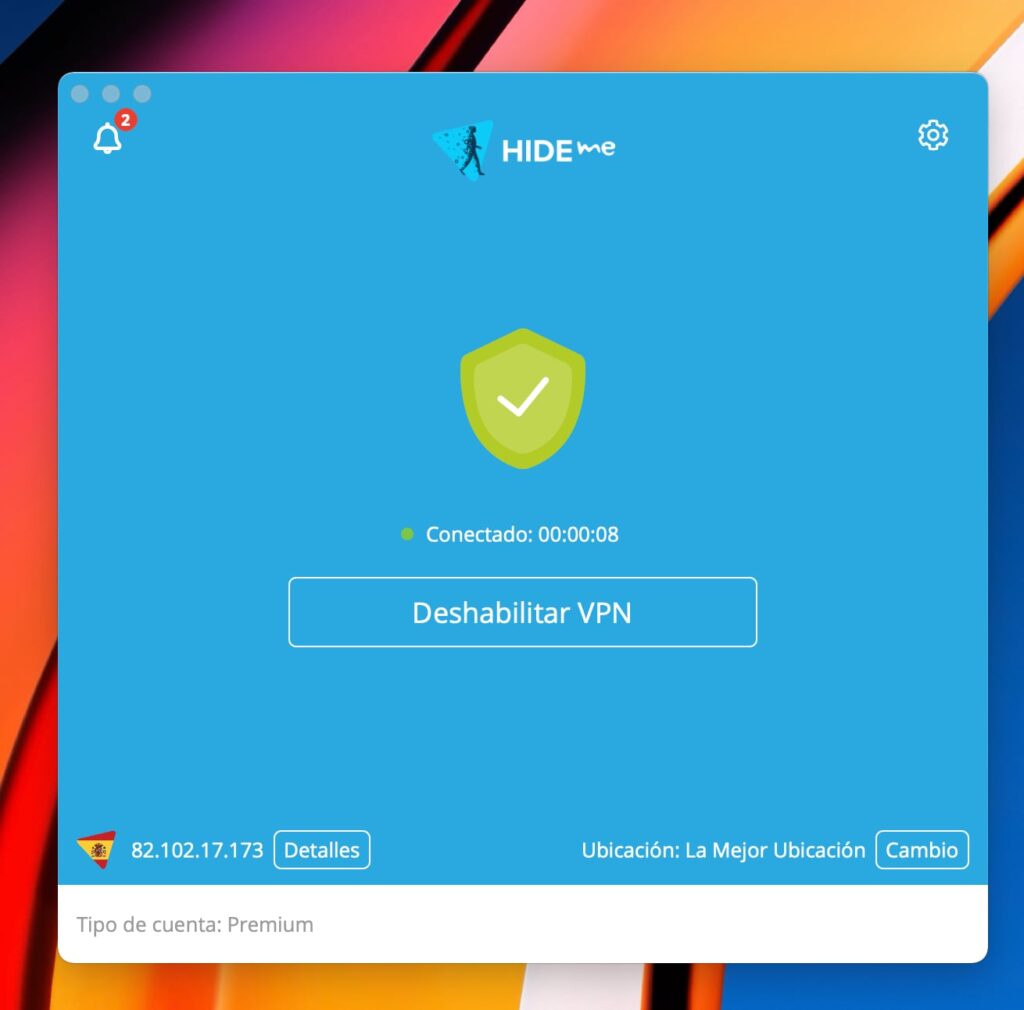 | Features | HIDE.me |
| --- | --- |
| Use with torrents | Yes |
| streaming services | Yes, it works with Netflix, HBO Max, Hulu, Disney+ |
| Privacy policy | Does not keep records of you |
| apps | Windows, macOS, Android, iOS, Linux, Firefox, and Chrome extension |
| servers | 2,000 servers in 75 locations (46 countries) |
| number of devices | 10 devices |
| trial period | 30 days without commitment and a free plan available |
You can sign up at the following link and try their free plan: Hide. what kind of subscription packages do you offer? One free with 10 GB per month and several paid for 1, 6, 12, and 24 months. The best option is the two-year plan. The price is in accordance with its characteristics. It has a good number of applications: Windows, iOS, Android, macOS, and Windows Phone. They also have a separate proxy extension for Chrome and Firefox. It seems that only the Linux command line app is Open Source. The other versions do not.
We just have to keep in mind that it does not have Smart DNS, such as NordVPN: to use this VPN with consoles, or Apple TV you will have to configure the VPN on your router.
You can access the VPN on up to 10 different devices, something that is not usual (normal is only 5 or 6 at the same time).
It does not have an ad blocker.
Works with torrents and Netflix
It has fixed IP, Socks5, Kill Switch, and Split tunneling
In its very complete apps, you can change many things:
Information: account details
Settings: Kill Switch, icons in the system, language.
VPN connection based on the network
Split Tunnel: which apps will use the VPN and which will not
Stealth Guard: Stealth Guard allows you to choose certain applications or your entire Internet connection and limit them to a VPN connection. So if you have uTorrent limited to using the VPN, it will never work unless you have your hide.me VPN connected and if your hide. my connection drops, uTorrent also drops the connection.
VPN protocol: IKEv2, OpenVPN, WireGuard
Support
Extension
Is HIDE.me the fastest VPN in the world? Well, the truth is that its speeds are excellent, at the level of the best VPNs I've tried, such as NordVPN or Mullvad. I have a symmetric connection in Madrid of 1000 Mbps and these have been the results in the speed tests: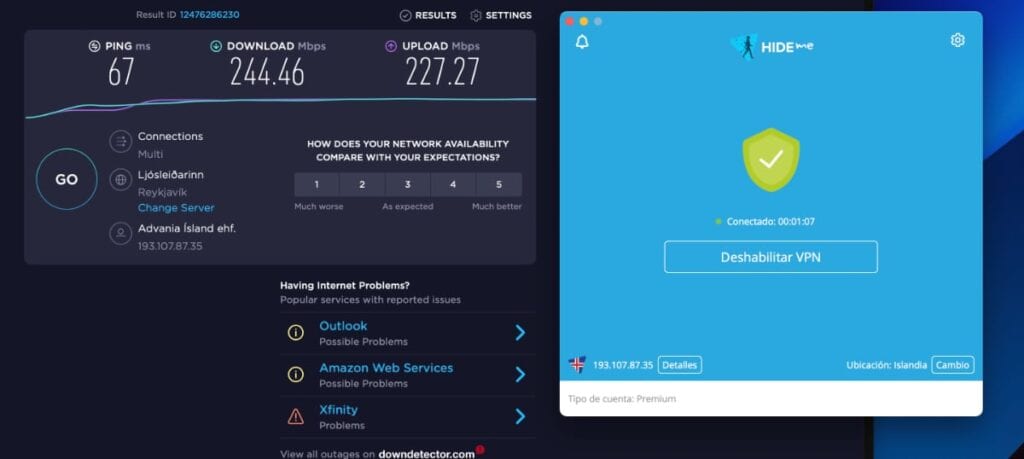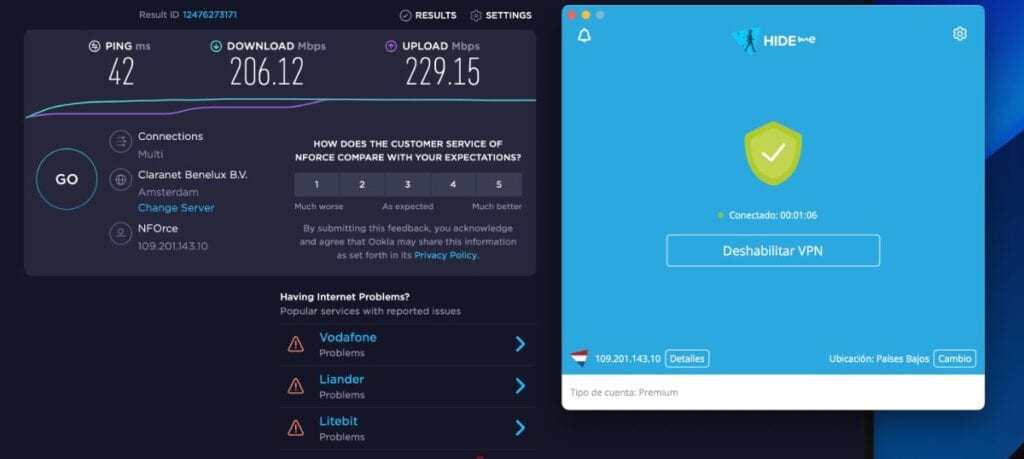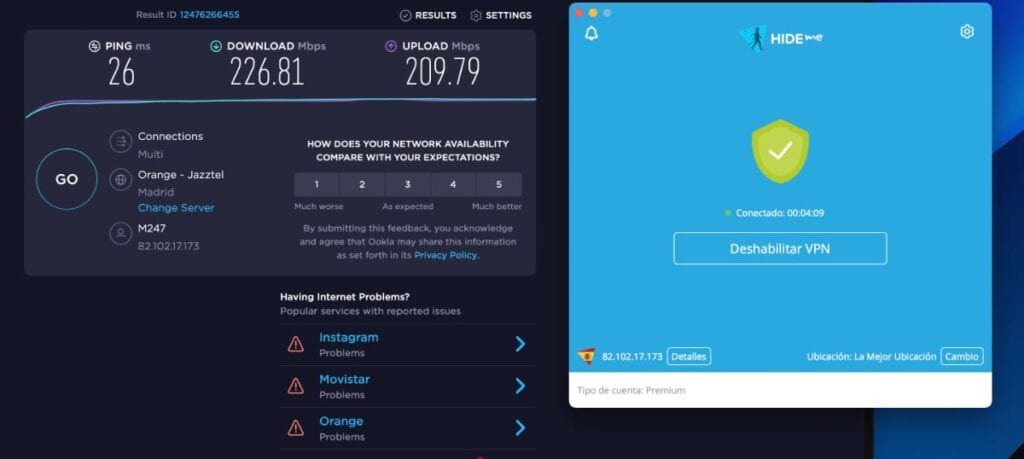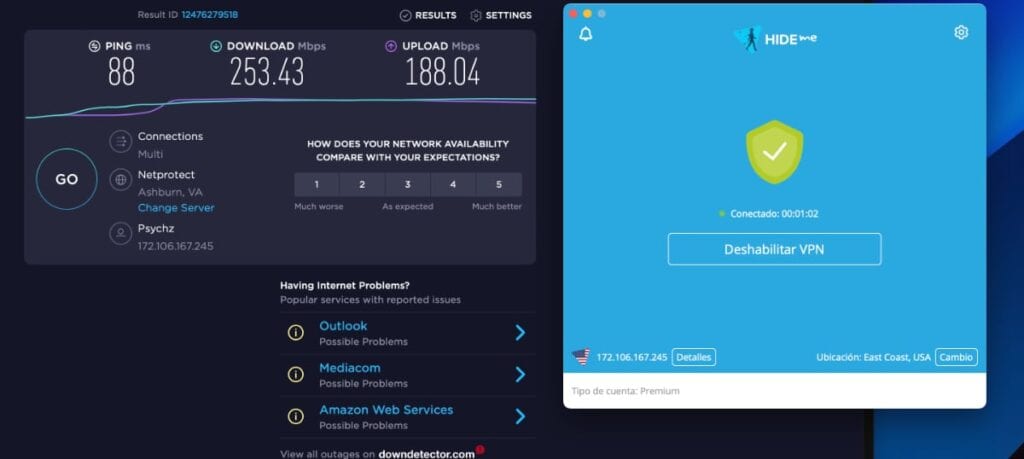 The speed has remained constant and always above 200, 250 Mbps, which is not bad at all, especially if we take into account that I have connected to the USA. It has a good privacy policy:« We do NOT keep logs of your VPN sessions, browsing behavior, websites you visit, or any activity related to your VPN connection. Also, we NEVER store VPN connection logs and timestamps matching incoming and outgoing IP addresses or session duration. In favor:
Has options for advanced users
Good privacy policy with audit (carried out a few years ago)
Excellent server speed
Good prices on the 2-year plan and with the free plan with 10 GB per month
With OpenVPN, IKEv2, and WireGuard support
With Kill Switch
Perfect for streaming and torrenting
With port forwarding, socks5, and split tunneling
With the possibility of configuring a fixed IP
You can connect up to 10 devices at the same time
Support for Linux and routers
Can be used for streaming and P2P
You can pay with cryptocurrencies
Against:
No ad and malware blocker
Expensive monthly plan
Sometimes I have been blocked from connecting to the server, but the Kill Switch has worked
When connecting some servers the app has been blocked
A website with web analytics programs
An audit was carried out in 2015 and is not available online
Only the Linux app is Open Source
12.-OVPN: perfect VPN to download torrents
Keep in mind that it is a niche VPN, offering very specific features. You will not have the large number of servers offered by for example NordVPN or even Mullvad (from the same country as OVPN). It is at the same level as AirVPN, although it has a better app and website design. The OVPN was officially launched in the summer of 2014 in Sweden. It is the owner of all its servers and they do not release pledge before the courts in case they request data or information from its users. Their apps are not Open Source, but we trust them. And they keep getting better: they have implemented WireGuard among their VPN protocols. It is a perfect option for torrenting because they offer Port Forwarding.
| Features | OVPN |
| --- | --- |
| Use with torrents | Yes |
| streaming services | Yes, it works with Netflix, HBO Max, Hulu, Disney+ |
| Privacy policy | Does not keep records of you |
| apps | Windows, macOS, Android, iOS, Linux, Firefox extension, Viivaldi, and Chrome |
| servers | 95 servers in 29 locations |
| number of devices | 4 devices (an extra device for each year of subscription) |
| trial period | 10 days without obligation |
You can register at the following link: OVPN. Interesting in your two-year plan. The others are somewhat expensive.OVPN is a privacy-friendly VPN provider. As such, our entire infrastructure is built with privacy and security as fundamental principles. OVPN does not record any activity when you are connected to our VPN service. Therefore, we do not know who is connected to our service, what they are doing, or when they are doing it. Nothing can be connected to an account:
No traffic log
No registration of timestamps
No logging of DNS requests
No registration of IP addresses
No MAC address logging
No logging of individual volumes of user bandwidth
It has great coverage of apps and settings for all types of devices, its servers are fast, and its privacy policy is perfect.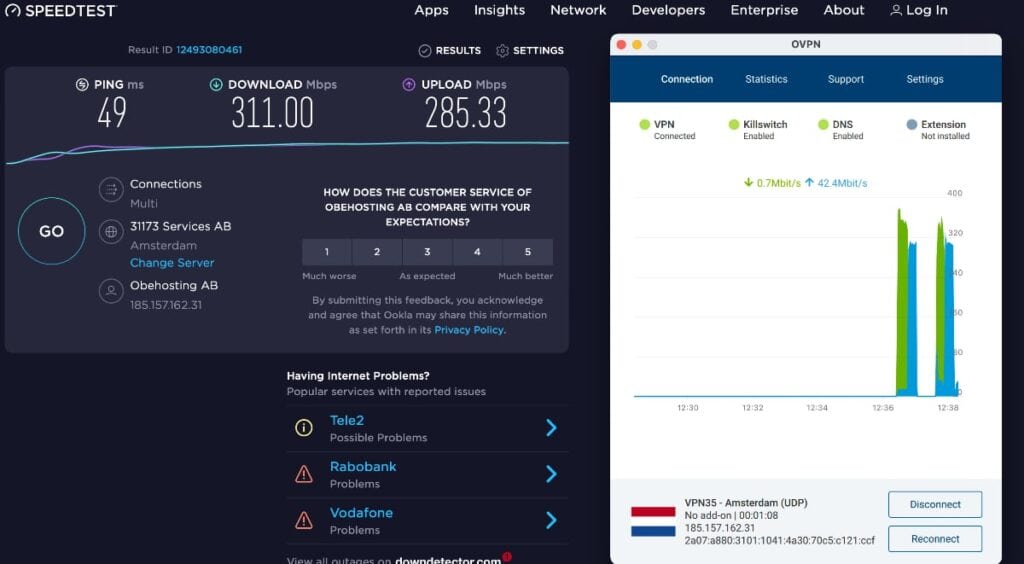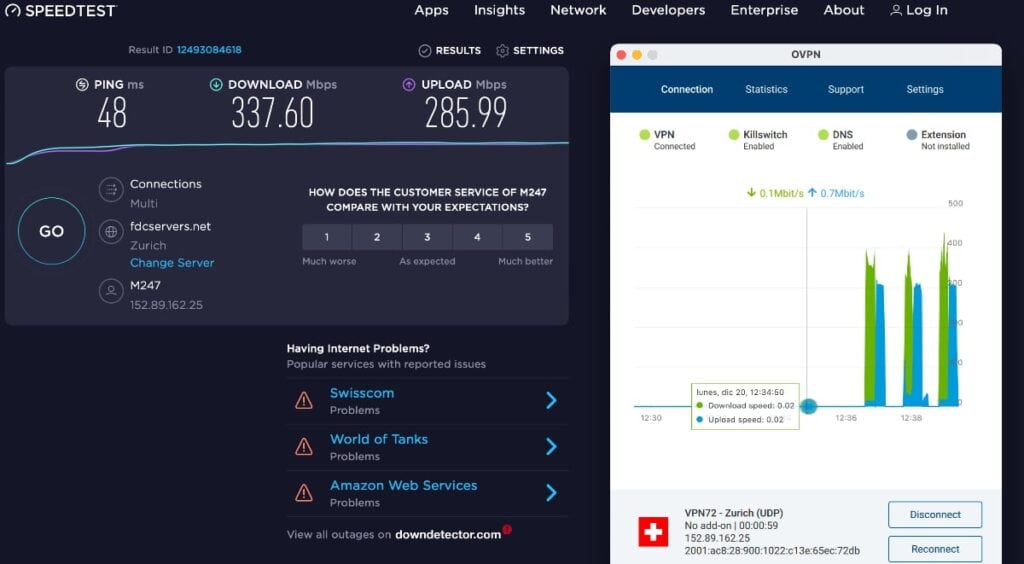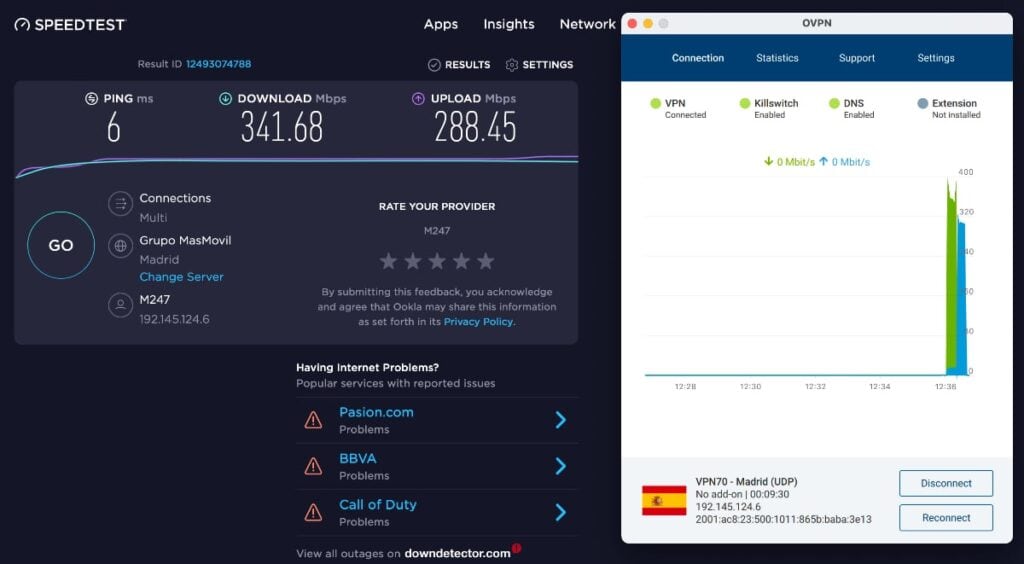 The lack of a large number of servers in many locations is made up for with excellent server configuration and very good VPN features. It is capable of unblocking streaming services like Netflix in different countries.It supports WireGuard, you can try its service for 10 days and you can activate the Multihop for greater security (in plans with more months). Their price is a bit expensive, but they are worth it. In favor:
Has options for advanced users
good privacy policy
You can register without an e-mail
Transparency reports every month
Excellent server speed
Good prices on the 2-year plan
With OpenVPN and WireGuard support
With Kill Switch
Perfect for streaming and torrenting
With port forwarding for torrents (up to 7 ports) on both WireGuard and OpenVPN
With the possibility of configuring Public IP
Support for Linux and routers
You can pay with cryptocurrencies and cash
With ad blocker
Good chat support
Against:
You can only connect up to 4 devices at the same time (monthly plan)
Does not have Socks5 or Split Tunneling
Multihop is paid separately in the monthly plan
Expensive monthly plan
The apps are not Open Source
Small (but very fast) server network
VPN.ac: good extra options and very secure from Romania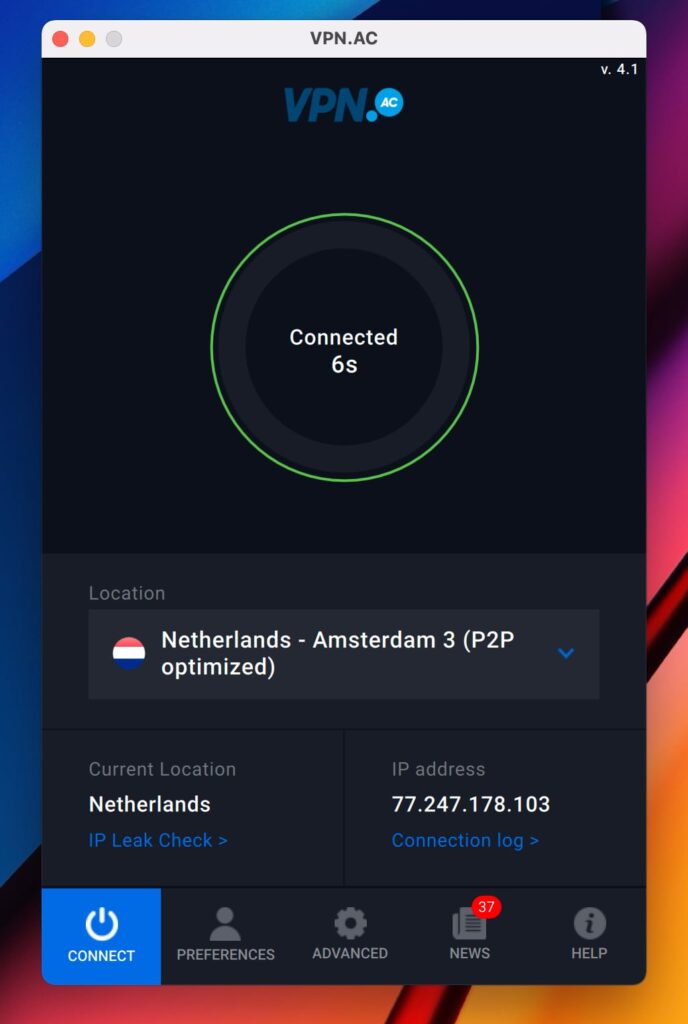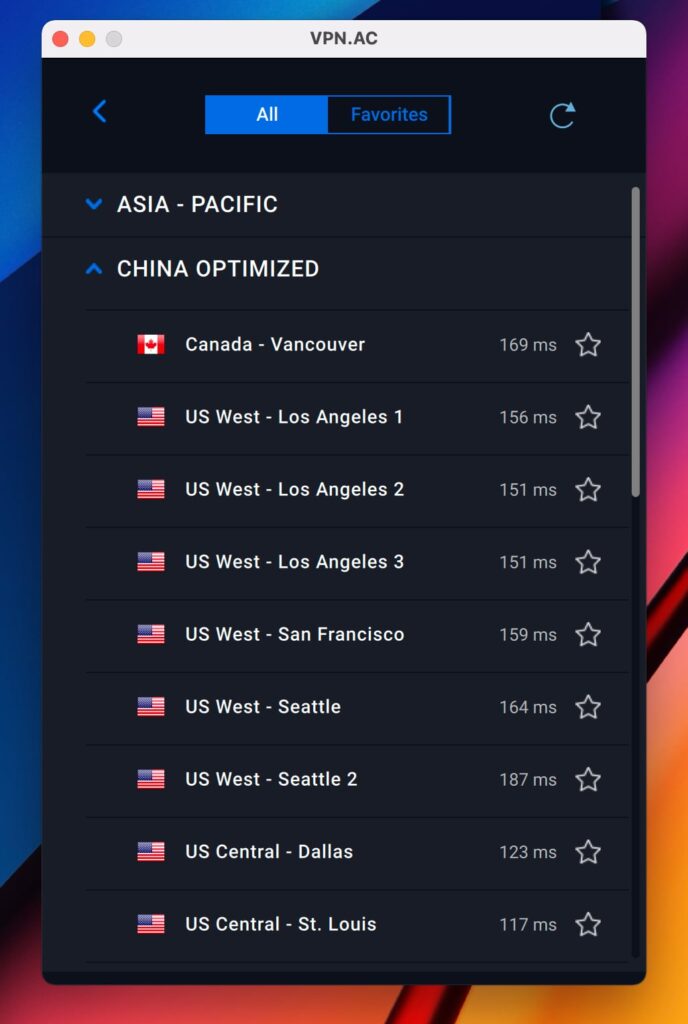 | Features | vpn.ac |
| --- | --- |
| Use with torrents | Yes |
| streaming services | Nope |
| Privacy policy | Does not keep records of you |
| apps | Windows, macOS, Android, iOS, Linux, routers, Firefox Opera, and Chrome extension |
| servers | 130 servers. Multiple countries: 21 (VPN), 32 (SecureProxy) |
| number of devices | 12 simultaneous connections (6 OpenVPN, IPsec + 6 WireGuard) |
| trial period | Trial account for 7 days (7 days money back) |
You can register at the following link: VPN.acVPN.AC is operated by Netsec Interactive Solutions, an IT security company established in Romania in 2009. Each individual member of the team has more than 14 years of experience in IT security, providing security auditing and penetration testing services for public clients. and private, banks and military institutions.VPN.ac is not the most popular VPN service on the market, but it has many interesting things: good price, WireGuard support, Socks5, good apps, servers that are generally fast, obfuscation protocols to use in countries like China, ad blocker, and malware, Multihop, proxy browser extensions.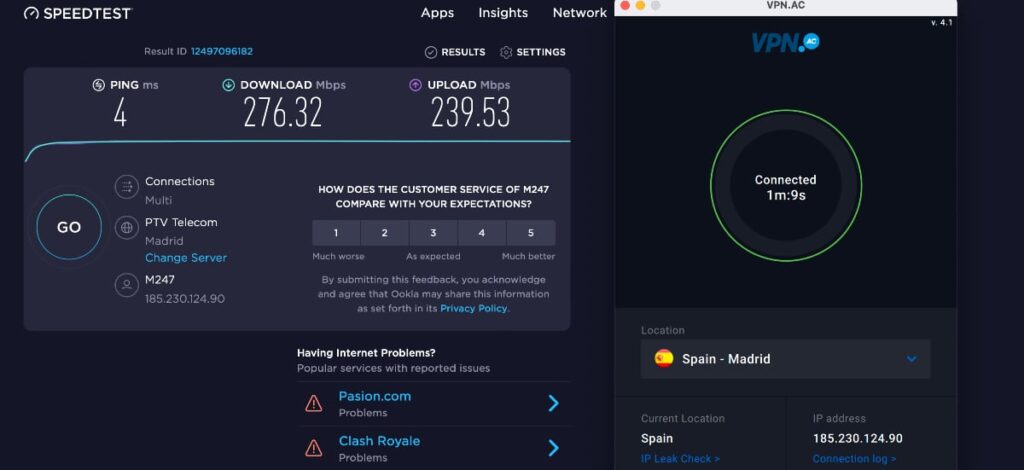 The only drawback that can be put is that it does not work with streaming services, or at least it does not do it automatically on all servers. Keep that in mind. They also don't offer Port Forwarding for torrents, but they do have specialized P2P servers. WireGuard is in the beta phase (not available in its apps but configured in the official WireGuard app). And it would only need to have Port Forwarding to improve the download speed of torrents, WireGuard support integrated into its apps (just like the ad and malware blocker), and that it always works with streaming services. In short, it is a VPN with very good options, which will be almost perfect if its official apps and support for WireGuard improve a little more. That, and that they should rethink their policy for saving connection logs: Connection logs (without usage data) are kept for 24 hours and then deleted.
We do not record any user activity, such as but not limited to sites you visit, DNS lookups, email messages, passwords, etc.
We only log access to our VPN Service for troubleshooting, service improvement, and security purposes.
We record the IP address of the client, the connection and disconnection time of the VPN session, and the amount of traffic transferred. All of these session logs are deleted shortly after the session is closed.
We do not give your personal information to third parties. We do not cooperate with any request for information unless we are ordered by a court of competent jurisdiction.
We value your privacy and will do our best to protect it.
In favor:
Has options for advanced users
Good speed from nearby servers
Good prices on the 2-year plan
With OpenVPN and WireGuard support
With Kill Switch
Support for Linux and routers
You can pay with cryptocurrencies
With ad and malware blocker
Obfuscation Protocols for China
Socks5 and Multihop support
Against:
They have a policy of keeping connection logs (not usage logs) which they delete every so often
No-Port Forwarding
Speed ​​on US servers can improve
WireGuard support is not integrated into its apps
Does not work with Netflix and other streaming services
Ad blocker only integrated into its Android app
The apps are not Open Source
small server network
5.-VyprVPN: Fast VPN and no logs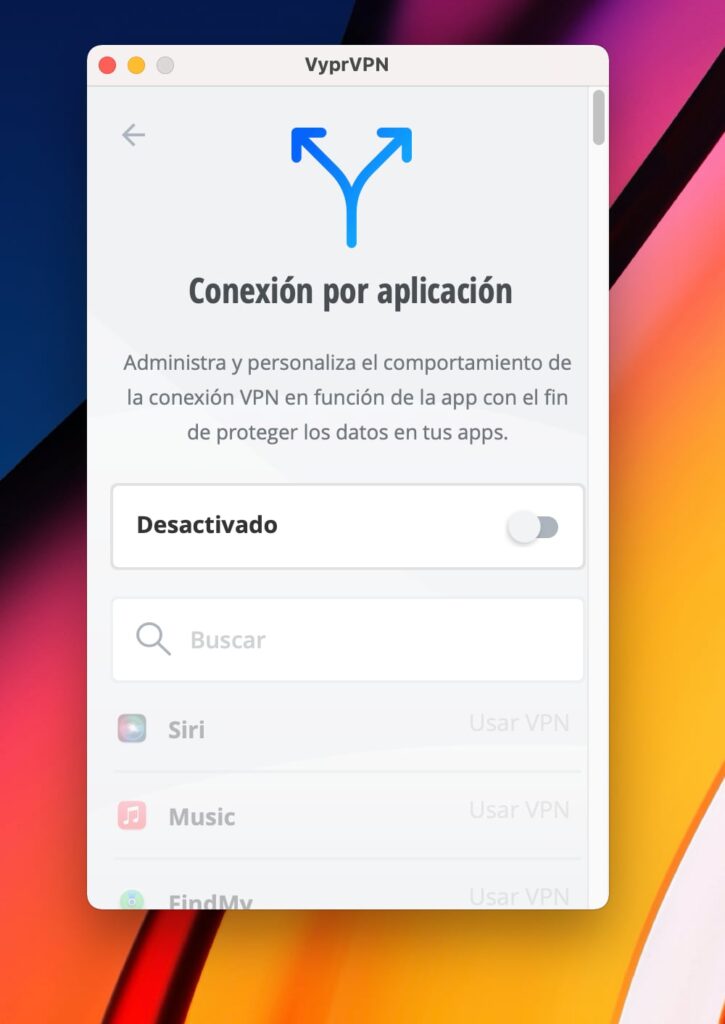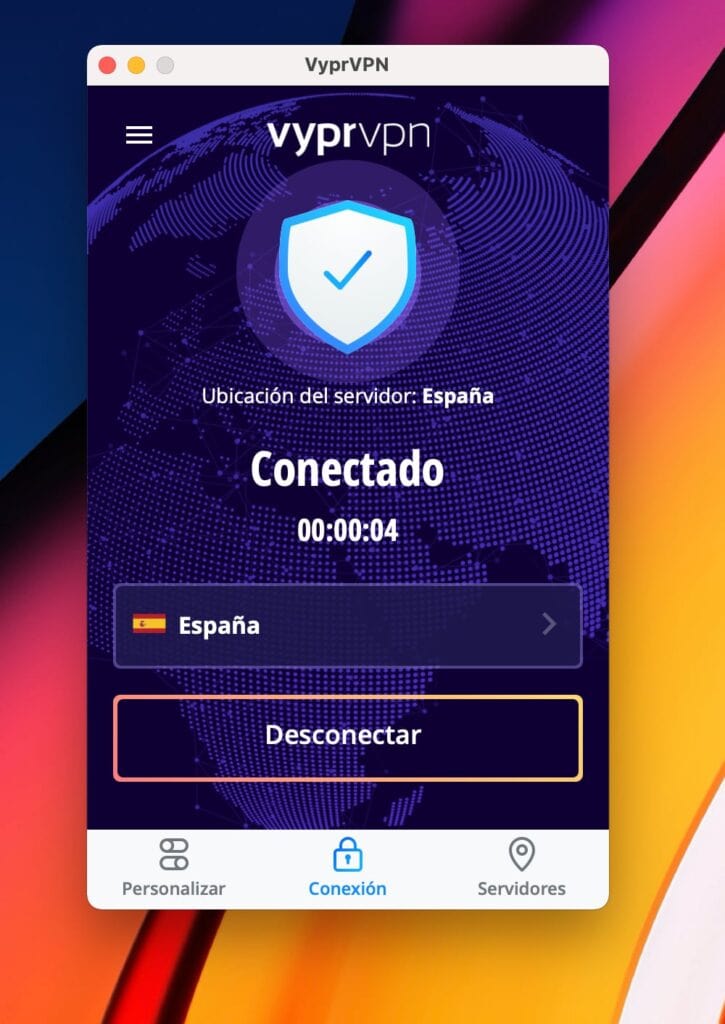 | Features | VyprVPN |
| --- | --- |
| Use with torrents | Yes |
| streaming services | Yes |
| Privacy policy | It does not keep records of you. Audited. |
| apps | Windows, macOS, Android, iOS, Linux, TV, Qnap, routers, chrome extension |
| servers | More than 700 servers in 70 locations |
| number of devices | Connections for 30 devices |
| trial period | 30 days money back. |
You can register at the following link: VyprVPN It is a VPN that offers high server speed (about 700), has a no-logs (audited) VPN policy, and supports many devices with good apps. Privacy PolicyVyprVPN is a zero-log VPN service. We do not record or retain any data when you use the VyprVPN Service. We contract with a respected security company to audit our zero-logging policy so users have a third-party validation of our logging policies. You can view the full report here at Leviathan VyprVPN Certification Letter and No-Log EvaluationThis means:
We do not log a user's originating IP address (usually assigned to the user by their ISP).
We do not log the IP address assigned to the user when using VyprVPN.
We do not record the start or stop time of the connection.
We do not record a user's traffic or the content of any communication.
We are not neutral. We do not discriminate against devices, protocols, or applications.
We do not throttle or throttle your internet connection.
Golden Frog's VyprDNS service is zero-logging. We do not log any DNS requests. They offer WireGuard support and they also offer us a protocol with obfuscation called Chamaleon, perfect for use in networks with Firewalls or in countries like China.
Their support is good and they have a very active community around them. The VPN works with Netflix and other streaming services and you can download torrents with them. You can install the VPN on up to 30 devices.do you hit? It is not the cheapest VPN on the market, during the registration you have to give an email and you cannot pay in cash or with cryptocurrencies. They do not offer ad blocking, port forwarding, or Socks5.In favor:
Excellent server speed – they are all yours.
No logs policy (no logs). They are audited. Location in Switzerland.
Access to Chameleon to bypass firewalls and restrictive networks (obfuscation)
With Kill Switch and Split Tunneling
You can try the VPN for 30 days and get your money back
You can use the VPN on 30 devices
With Proxy extension for Chrome
With NAT firewall
Excellent 24/7 support
Support for P2P downloads and torrents
With OpenVPN and WireGuard support in their apps
With apps for routers, QNAP, TV, and configuration files
Works with Netflix and other streaming services
Easy to use apps
Against:
somewhat high price
You need to give your name and e-mail to register
You cannot pay with cryptocurrencies
No ad and malware blocker
No-Port Forwarding or Socks5
6.-How does a VPN work: What is a VPN?Do you know what a VPN is? And how does a VPN work? Do you know how to choose the best Virtual Private Network to keep your anonymity and privacy safe online? It is increasingly important to keep in mind that we must be safe when we browse the internet. We must defend our privacy and security online tooth and nail. The problem we often have is that we don't know how to avoid online snoopers, and the answer is simple: we have to use a VPN, a Virtual Private Network. Now that we are clear about which VPN to choose in 2021, we must be clear about what a VPN network is and how they work. You have to take certain precautions so that your connection to the network is secure… What does that mean? Your computer's IP address is like your physical address, and you don't want anyone to know it. If, in addition, you manage to hide all your traffic from prying eyes… well, all the better… that's what a VPN does: it hides your IP and encrypts your traffic, be careful when browsing online. What is a VPN? A VPN will simply encrypt all your data as soon as you install its software on your computer, tablet, or smartphone. How does a VPN work? It will create a kind of tunnel where your data will travel safely, completely encrypted (you will only see random numbers and letters): only you and the VPN know "the word" that encrypts your communication, so to speak (the process is quite complex).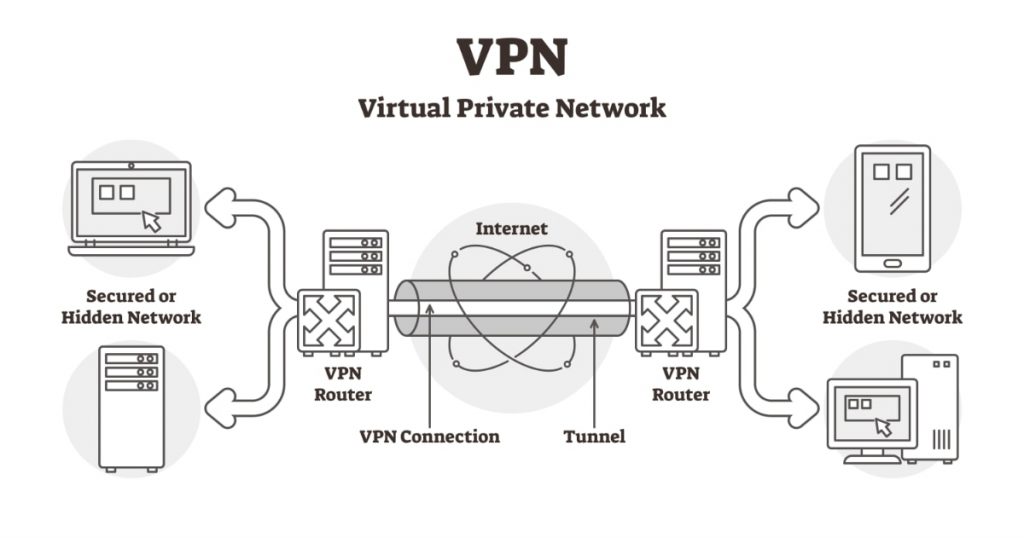 Even if someone is able to penetrate inside that tunnel, everything that he will see inside will seem unintelligible. Ok… and what does all this mean? I give you a very simple example. When you try to access the internet from home, your ISP (internet service provider – Movistar, Vodafone…-) receives your request and directs you to what you want to see. Come on, you can see all your traffic and what you are consulting on the internet. You can sell your browsing data to third parties. And for that, we use a VPN. The VPN will redirect your traffic to a certain VPN server that hides your IP address and encrypts all your data. All your navigation will be hidden. Only you and the VPN know "the word" that encrypts your communication, so to speak (the process is quite complex). Even if someone is able to penetrate inside that tunnel, everything that he will see inside will seem unintelligible.
They work with Linux, Mac, Windows, Android, iOS, routers, NAS
You can use OpenVPN
Easy setup (VPN providers often offer their own apps)
Protect and encrypt all your communication, not just a program
How is your data encrypted when using a VPN? Well, it depends on the VPN provider, but normally the same encryption protocols are used: OPENVPN (the most common and configurable) or IKEv2/IPSec (perfect for mobile users due to their speed in changing the connection) are two of the most common. Right now WireGuard is becoming fashionable, which is a more modern protocol, easy to configure, and fast7.-Are VPNs legal? Is using a VPN legal? Are VPNs legal? Can you use a Virtual Private Network on your home connection or with your smartphone and be perfectly legal? I already tell you that the use of a VPN is legal. A resounding yes. We just have to clarify what we are going to use them for. Privacy has become a major issue when connecting to the Internet. And we don't even want to talk about security. Governments, hackers, ISPs… everyone wants your data, your passwords, knowing where you are browsing… information is the new gold of the 21st century. And users can defend themselves using VPN networks that protect their privacy and security online. This technology encrypts the data coming from your computer through certain servers and makes you practically anonymous when you browse. Not only does your identity remain hidden, it is also difficult to track your real location. Is using a VPN legal? There are various questions about the legality of VPNs, but the biggest source of this debate is whether it is legal to access blocked content in certain geographic regions using a VPN. Example? Netflix movies and series in different countries. Its catalog is not the same all over the world. Using a VPN to access online content is not illegal. We are simply using a different IP address than the one provided by your internet service provider. There is nothing illegal about doing this.If you are using your VPN to access Netflix in Spain (if you live in Spain), you are not doing anything wrong, as long as you pay for your monthly Netflix subscription. And what if you live in Spain and want to access Netflix content in the United States through a VPN? Even though you're paying for your Netflix subscription, you're breaking a civil agreement. Is there something wrong with this? Legally, you're not going to get in trouble. No one is going to arrest you, and it's pretty unlikely that Netflix will take your account away as long as you pay every month. Some examples of the legal use of a VPN:
To improve your online privacy and security when you browse: you will hide your IP from prying eyes and all your traffic will be encrypted.
You can use a VPN when you go online on unsafe public WIFI, for example in cafes, hotels, buses, etc.
To bypass geographic restrictions of certain streaming video companies.
To secure a network in a company and keep the information of the corporation safe.
Countries like the US, UK, Canada, Spain, the entire European Union, and many others allow the use of VPNs. It is totally legal to use a VPN in these countries. So when is it illegal to use a VPN? Certain uses of VPN networks are considered illegal.
Using a VPN in countries that have explicitly prohibited its use (China, North Korea)
Access to child pornography
hacking online
Use the VPN to spread computer viruses or spam.
Committing fraud, scams, or theft
Buying or selling illegal substances like drugs and weapons
Pine drawer. It is clear then, that if you use the VPN to protect your online identity and your security, you are not doing anything wrong. 90% of people will use VPN networks correctly, so don't worry anymore and ensure your privacy and security when you surf the internet. Countries like China, Iraq, Turkey, Russia, Iran, Venezuela, and UAE do not allow the use of VPN networks for various reasons. It is totally illegal to use a VPN in these countries. If you travel to these countries, be very careful about using a VPN network.8.-Do you know how to use your VPN provider correctly? The first thing you should do when signing up for your VPN would be to use the following page to check if it hides your IP, DNS, and others: ipleak.net
IP address: will check your IP address. If you have a VPN activated, an IP address will be different from that of your telephone operator.
DNS address: It will tell you which DNS servers you are using. It is always a good practice to configure other DNS servers than the ones "offered" to you by your ISP.  VPN and DNS: How to protect yourself from DNS Leak with a VPN network and changing your DNS servers
WebRTC Detection: Verify that your browser does not support WebRTC or that it has been disabled. If you are connected to a VPN and you see the IP of your Internet provider or ISP, in barrels your browser is filtering your data through WebRTC.
You may be wondering what to use your VPN for, where to activate it, or how to use it on your router or smartphone… All doubts are resolved in: The moral of all this is that you can and should use a VPN both on your home computer and on your smartphone or tablet: they are surely the devices you use the most in your day-to-day life. Then, if you want a more advanced user, you can install a VPN profile on your router to give encrypted access to all the devices that connect through your home Wi-Fi. Is it easy to use a VPN on your smartphone or tablet? Of course, all the VPNs in the list above offer an app compatible with Android and iOS. You install it, put in your credentials and you already have access to the internet through your VPN. In general, VPNs are very easy to use: you just have to download their programs and applications and get to work. If you're trying to get around a geo-block, the Great Firewall of China, want to download torrents anonymously, or simply want to increase your online security, a VPN is your best chance of doing so. Where to use the VPN and what is it for? You can use your VPN network in your home network so that your ISP does not know what web pages you are visiting or take the app installed on your smartphone when you travel to encrypt your connection in hotels, restaurants, or beach bars that offer Wi-Fi networks public ones you've been connecting to so gleefully… they're a real danger… don't use them without connecting your VPN first.9.-Tor vs VPN vs Proxy: Which service should you use to improve your privacy? Each service has its own uses and it depends a lot on your personal situation, but I will give you a few tips. I'm using all three, so you can trust me.
Tor: I use the TOR network to connect to the DEEP WEB. It provides true anonymity online thanks to its network of servers, but the connection is much slower than that provided by a VPN. eye! I use a computer running Qubes OS which comes with Whonix pre- installed. I tell you more things about The best operating system to improve your privacy and security.
VPN: I use several VPNs to connect to the internet on a regular basis and prevent my operator from knowing which websites I visit or accessing content with geographical restrictions. I usually use NordVPN and Windscribe, but also Mullvad.
Proxy: I use proxies in certain network scraping programs to obtain information. They can also be used in your torrent downloader or directly in your browser.
The table where you can quickly see what a Proxy does and what a VPN does
| | | | |
| --- | --- | --- | --- |
| | proxy | VPN | Thor |
| Hide IP | YES | YES | YES |
| encrypted traffic | NO | YES | YES |
| Improve security | NO | YES | YES |
| Use in just one APP | YES | YES | YES |
| Use throughout the computer | NO | YES | NO |
| Browse DEEP WEB | NO | NO | YES |
| easy setup | YES | YES | YES |
10.-What can you use a VPN for?1.-Avoid geographic blocks to view online content well, maybe you don't care about your privacy or that your data is safe in your online adventure, but maybe you want to watch a video that can only be seen by people from a certain country. You are in Spain and you want to see a Netflix series in the United States or the UK, and obviously, they will not let you. With a VPN you will be able to do it. You will be able to watch geo-restricted YouTube videos. Or all those BBC documentaries that they don't let you watch because you're living in Spain. Obviously, you are also going to prevent your telephone operator from playing with your data. Is this legit? Using a VPN to access online content is not illegal. We are simply using a different IP address than the one provided by your internet service provider. There is nothing illegal about doing this. If you are using your VPN to access Netflix in Spain (if you live in Spain), you are not doing anything wrong, as long as you pay for your monthly Netflix subscription.2.-Increase your online security when you travel and use public WIFI networks you travel a lot? So using a VPN is essential. When you connect to public Wi-Fi networks or to networks in hotels or cafeterias, you are in great danger of suffering information theft. The use of a VPN in these situations is almost mandatory. It may interest you: Privacy and security on the internet: essential tools3.-Download P2P content more anonymously (torrents)Another possible use that you can give to VPN networks is to be able to download content from P2P networks in a more anonymous way. If you use the Bittorrent protocol, using a VPN network may be a good idea to prevent your IP from being traced. You can bypass censorship from your internet provider (some cap P2P downloads) by using a VPN.4.-Improve your online security and privacy when browsing the internet at home

This is already quite clear. It is its main use. You are going to encrypt all your communication and you are going to mask your real IP. There is nothing better to be able to browse the internet freely. Obviously, if you are telecommuting from home or you are a Freelancer, signing up for a VPN to connect to the internet is one of the smartest options you can take: you are going to protect your work.5.-A VPN can protect you from identity theft that's it. If someone accesses your personal data online you can suffer identity theft. That data can be used to commit crimes or to be sold. With a VPN you can avoid it… How? A VPN encrypts your entire connection so no one will be able to steal your personal data. This is especially important when you use public Wi-Fi or go on a trip and connect to hotel or cafe networks.6.-A VPN can eliminate advertising on the internet many VPN providers offer a very interesting extra service: block online advertising and unsafe web pages. You have to find a provider that offers it such as NordVPN, Mullvad, or Windscribe, and activates it, as it is usually not activated by default.