Crypto News
Reports indicate crypto scams to the tune of $1 billion in the US since 2021
According to the FTC Consumer Protection Data Spotlight, cryptocurrency scams have reached more than 1 billion dollars in the United States since 2021. Indeed, more than 46,000 people have reported losses estimated at the amount communicated.
Year after year, along with the increase in the number of investors in Bitcoin, Ethereum, and other cryptocurrencies, crypto scams are also experiencing a meteoric rise. Unfortunately, frauds in cryptos are of all types and have multiplied by 60 since 2018
A report by the US Federal Trade Commission sheds light on this subject, emphasizing that the irreversibility of transactions and the fact that no intermediaries are involved in the transactions renders any control over the receiver obsolete. Once a cryptocurrency is sent to an address, it is impossible to review its color, even in the event of an error, or shipments for a wallet address of a fraudulent crypto project.
Social networks, a trap for crypto scams
According to people who have been victims of fraud in relation to the world of cryptocurrencies, social networks are generally the source of the problems. Half of the respondents said that everything starts with a private message, a publication (or a post), and sometimes sponsored advertisements of a fraudulent project or a fraudulent address impersonating a real project but therefore providing an address. incorrect wallet.
It is true that advertisements of fraudulent projects are particularly customary on the social network Facebook, while Telegram or Instagram are social networks where many of those who write to us directly by private messages redirect us to scams.
The report also states that the lure of large gains is a major cause that makes investors or individuals give in to following these crypto scams. The lack of experience they generally have in the sector constrains them from being able to clearly differentiate the real from the fraud or when the promised gains appear too onerous to be realistic.
Fraud-related platforms also know how to be very ingenious, since they generally make it seem (at least virtually) that the investment managed by themselves is profitable for investors. However, when the latter attempt a withdrawal or a withdrawal to secure part of the profits, they find it impossible to withdraw the gains.
Young people: The main victims of Crypto scams
According to the data from this report, 20-49-year-olds are the most likely to fall into the trap. Older people, although less numerous, nevertheless report more expensive money losses even if they fall into these frauds less frequently than young people.
The age group between 20 and 49 is more interested in cryptocurrencies but also much more active on the main social networks, this data does not suffer from any dispute and is even rather logical. Unfortunately for these investors, getting caught in these scams means losing all of the investment that will have been placed in these fraudulent offers.
The median investment lost would be $2,600 for these American consumers, while the main cryptocurrency lost during these scams is Bitcoin, which represents nearly 70% of the means of payment used for these scams. Tether follows in 2nd position far behind with 10% of the total while Ethereum represents 9% of these scams.
The record year 2022?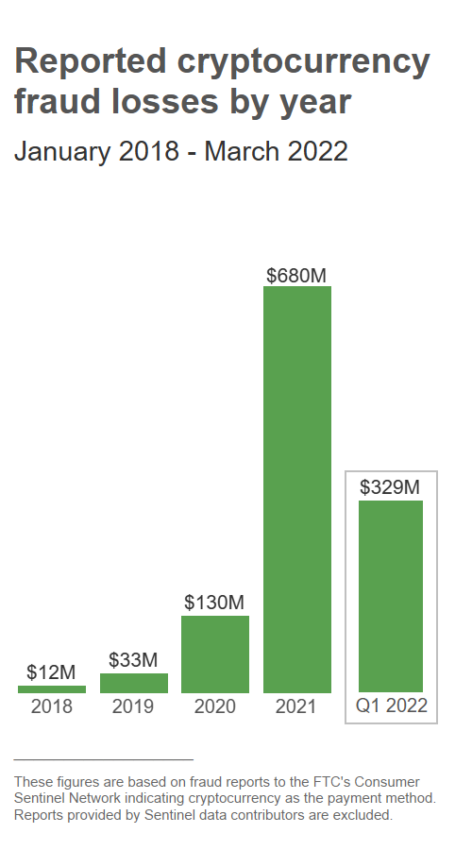 While the sums involved for the years 2018, 2019, and 2020 were already substantial, 2021 was the year of all records with an explosive increase in the amounts lost by American investors. However, the year 2022 does not seem to bode well, since the sum corresponding to the first quarter of 2022 represents almost half the amount of 2021. If this rate continues, nearly 1,300 billion dollars could fall into the hands of scammers ever more meticulous in their way of proceeding. A year of madness, constantly growing like the money invested in the world of cryptocurrencies.
The amounts could be higher, however, since the Federal Trade Commission's assessments are based on the scams that have been reported against them, while a significant amount of fraud goes unreported by investors.
Caution should always be in order
By observing these figures, we can only recommend that you again be very suspicious when investing, promoting diversification, and learning more about the cryptocurrency sector and existing frauds to avoid this kind of trap. Although often identifiable, these scams are sometimes difficult to pin down when one is just starting out in the industry.
It is very important to be on your guard and not to entrust sums of money to dubious individuals or platforms. Moreover, it is necessary to remain vigilant and lucid, and not to believe in false promises concerning too big profits (moving away from the real and the possible).
Finally, no one should or should insist that you invest in cryptocurrency; this practice or to be approached is already very suspicious and it is preferable to block the transmitters of messages without answering them.
Disclaimer
All information on our website is published in good faith and for general information purposes only. Any action taken by the reader based on information found on our website is entirely at their own risk.